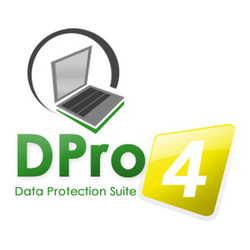 Flowery Branch, GA (PRWEB) December 8, 2009
ONS Technologies announces the recent launch of DPro4, a unique and environmentally friendly data loss prevention solution for home and small business users. Products include four key components conveniently packaged with unparalleled installation support and assistance in case of data loss events.
DPro4.com features various products with total data protection for desktops, mini computers, laptops, towers, gaming and workstations. Components include backup technologies for images, files, software and power. As an example, the Portables Edition of DPro4 contains the following:

ECO-Friendly 350VA UPS (Outlets: 3-UPS ,3-Surge Only, 2-ECO, Tel/DSL)
500gb Power Saving External USB Drive
50gb Secure On-Line "Cloud" Backup for 1 Year
Disk Imaging "Green" Application
Installation Support and Assistance with (1) Data Loss Event Included
1 Year product Warranty
"DPro4 products were specifically chosen because they use less energy for storage and they offer customers secure solutions for backup and system recovery in any situation," said Michael Lyness, owner of ONS Technologies. "We offer the total package for data protection which includes outstanding customer support and that's what makes DPro4 unique."
According to a national Harris Interactive survey of 597 computer users:

Nearly three out of five personal computer users have lost an electronic file they thought they had sufficiently stored
One in four users frequently back up digital files, even when 85 percent of computer users say they are very concerned about losing important digital data
82 percent keep a hard copy of important documents they've also saved electronically
Thirty-seven percent of the survey's respondents admitted to backing up their files less than once per month
Nine percent admitted they have never backed up their files
More than 22 percent said backing up information is on their to-do list, but they seldom do it
"You can spend days trying to piece together your operating system, programs, files, and images after a hardware crash or you can take advantage of the DPro4 remote support system and be up and running in 1 to 2 hours with zero loss," said Lyness. "I've seen too many customers lose important documents and personal photos because they didn't have continuous data backup or system recovery options."
ONS Technologies has been providing technology services to Northeast Georgia and the surrounding area since the year 2000. We are dedicated to serving our customers honestly and in a timely manner. As a vendor hardware repair technician, Michael Lyness, owner of ONS Technologies, found that 9 of 10 people with Hard Drive or system malfunctions lost ALL of their data and replacing the hardware was not the major issue. THE issue was the time it took the customer to reinstall the OS, and the time it took to reinstall the programs they had been using (IF they had the original CD's and License Codes). Visit http:http://www.DPro4.com for more information.
###