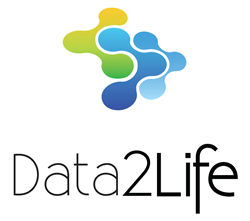 Such a system can allow for quicker and proactive responses to address drug safety concerns, and identify opportunities for new indications, based on a fuller spectrum of patient experience data. - Prof. Haim Bitterman, Chief Physician of Clalit Healt
Tel Aviv, Israel (PRWEB) August 04, 2015
Data2Life, a Tel Aviv-based technology company, today announced the launch of a new product suite designed to provide pharmaceutical and healthcare organizations with advanced intelligence on drug effects. The product suite tracks signals and trends based on multi-sourced and cross-referenced data from regulatory filings (including the FDA and HealthCanada), social media and anonymized clinical electronic health records (EHRs).
"There is great value for public health in having these diverse data sets available through one interface, along with analytical tools that can provide insights that align to common industry goals for drug safety and innovation," said Prof. Ran Balicer, Director of Clalit Research Institute. "Clearer visibility into drug events offers specific and compelling opportunities for pharmaceuticals to focus their research efforts, identify potential new indications for existing drugs and strengthen their drug safety practices, especially after medications have been approved."
"Such a system can allow for quicker and proactive responses to address drug safety concerns, and identify opportunities for new indications, based on a fuller spectrum of patient experience data," added Prof. Haim Bitterman, Chief Physician of Clalit Health Services.
Through partnership with Clalit, one of the world's largest integrated payer/provider health maintenance organizations, Data2Life has access to insights derived from a unique centralized EHR system that includes almost two decades of anonymized clinical data on more than four million patients.
Combining proven analytical methods with the latest research, Data2Life products aggregate, standardize and validate these data streams based on both advanced statistical methodologies, and industry standard research and epidemiological techniques. Then, Data2Life's proprietary algorithms scan for meaningful trends and signals for single drugs, across therapeutic classes or for specific demographic populations. The company also offers products that provide market intelligence and event tracking for products already on the market. Beyond their value to all stakeholders in the health arena, these products are expected to have a meaningful contribution to public health and patient safety, locally and globally.
The company officially revealed its products at the 8th International Symposium on Diabetes, Hypertension, Metabolic Syndrome and Pregnancy in Berlin, on 16 April, and presented at the Develop Innovate Advance (DIA) annual meeting in Washington, DC, 14-18 June. It expects to announce several pilots during the remainder of 2015
About Data2Life
Data2Life serves the life sciences and healthcare industries with real-world intelligence and easy-to-use analytical tools on drug events and trends. By combining, normalizing and cross-validating data from regulatory agencies, clinical electronic health records and social media, Data2Life provides broader and clearer visibility into drug effects experienced by patients after launch. The company has a partnership with Mor Research Applications LTD, the technology transfer arm of Clalit Health Services, one of the world's largest integrated payer/provider health maintenance organization. Learn more at http://www.data2life.com.