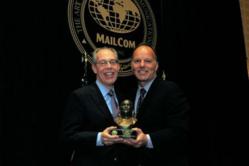 "We at MAILCOM are proud to honor Harold Friedman with a Franklin Award for all he has done to advance the power of mail and parcel shipments," said Lance Humphries, CMDSM, MAILCOM's Managing Director.
Washington DC and Fort Myers, Florida (PRWEB) May 23, 2012
Global freight bill processor, auditor and advisor Data2Logistics announces that Harold B. Friedman, DLP, Senior Vice President of Global Corporate Development, was presented with the prestigious Franklin Award at the recently concluded MAILCOM 2012 Annual Global Convention. The Franklin Award honors leaders whose contributions maintain the value of mail and logistics communications. Benjamin Franklin was the first United States Postmaster General and is credited with planning and implementing the original U.S. Post Office Department – predecessor of what is now the U.S. Postal Service (USPS).
"We at MAILCOM are proud to honor Harold Friedman with a Franklin Award for all he has done to advance the power of mail and parcel shipments," said Lance Humphries, CMDSM, MAILCOM's Managing Director.
Friedman had previously been President of Chase Trans Info, the freight bill processing subsidiary of The Chase Manhattan Bank. He was an early adopter of EDI working with The TDCC to create the ANSI X12 standards in place today. He was also the driving force to establish freight bill processing on a global basis. He has been with Data2Logistics' since they acquired his company, CTI Logistics and currently serves as Senior Vice President for Global Corporate Development.
Friedman holds a BA degree in Accounting from Pace University and attended Wharton School of Continuing Studies. He graduated with honors from the U.S. Army Transportation School and is a member of numerous transportation organizations. He received The American Society of Transportation & Logistics® Distinguished Logistics Professional (DLP) award in 2007. This designation recognizes the unique, upper echelon of logistics professionals who have shown their mastery through significant and career-long contributions in the industry. Friedman has been a frequent industry speaker including presentations at MAILCOM, The Washington Press Club, CSCMP, SMC3, Distribution Computer Expo, and Parcel Forum.
Data2Logistics assists Global 1000, Fortune 1000 and SMB companies to reduce their product shipping costs by providing an outsourced opportunity to efficiently process, audit account code and pay their freight at a significantly lower cost than internal processes, while also identifying more carrier overcharges than internal systems. The company provides actionable information to better manage and control transportation cost, and supports clients with their carrier bid preparation, benchmarking, proposal analysis and negotiation for all modes on a global basis. As a single source of information, Data2Logistics seeks to identify opportunities for savings, report the reasons for variances, and determine and report variances in trends and opportunities to make in modal shifts, consolidate shipments, improve carrier utilization and adjust shipment size, as well as monitor accessorial cost, and costs per kilometre/mile. Reviewing over $15 billion worth of freight bills from thousands of carriers annually, the company offers a single-source solution for all modes of freight.
For copies of Friedman's MAILCOM presentations, contact him: +1 609 577 3756 or harold.friedman(at)data2logistics(dot)com.
About Data2Logistics, LLC
Fort Myers, Florida-based Data2Logistics is a leader in supply chain logistics, cost management and freight payment. The company's Ship Smarter and Save capabilities assist hundreds of clients in the Global 1000, Fortune 1000 and SMB categories, processing hundreds of millions of freight bills annually, valued in excess of $15 billion, saving clients an average of 5%-15% of their product shipping expenditures per year.
As an eight-time recipient of Inbound Logistics' Top 100 Logistics IT Service Providers, their data mining capabilities creates actionable information for current and ongoing shipping cost savings. The company is the only service provider to work with clients and carriers to eliminate billing errors from recurring and to continuously improve and optimize their logistics networks and expenditures, domestically and globally. http://www.data2logistics.com/ + http://www.twitter.com/Data2Logistics