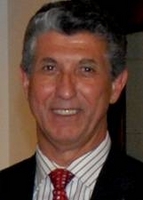 We are thrilled to have Mr. Concaildi join the SDR leadership team and endow us with his deep business experience. The timing for this addition is perfect as we move into 2010 with a goal to penetrate new markets with our solution suite.
Orland Park, IL (PRWEB) December 14, 2009
Secure Data Replicator, Inc. (SDR), the Chicago-based firm that is an international leader in data backup / restoration and cyber security software for both enterprise environments as well as portable devices, has named Richard P. Concaildi as their Chief Operating Officer effective immediately.
Concaildi was honored with winning the prestigious Everest Group Outsourcing Center Global Award for Best Outsourced IT Application (Forbes, Everest Group 8/07). He has been published in Forbes, Outsourcing Center, Federal Computer Week, NASCIO and numerous other trade journals. His speaking engagements include NASACT, NFBPA and other organizations that assist public sector clients and emergency responders. Drawing upon his 39 years of experience at major technology firms like Unisys and Hewlett Packard, he has joined SDR in this executive management role. As a seasoned executive he will be responsible for sales, marketing, operations management, company policies and public relations efforts.
His focus is to drive overall company growth both domestically and internationally. He is a veteran IT executive including previous experience as the Chief Information Officer for a Fortune 50 firm (W.R. Grace). His extensive experience in many phases of consulting, sales, marketing, administration and formal IT management will guide SDR to greater profits, new markets and expanded product offerings.
The timing of this announcement is significant since SDR has been gaining market share around their latest product called SWOT which provides a one of its kind backup and recovery solution for portable devices. SDR is also expanding their solution sets and market reach from corporate users to address the needs of the Small and Medium size Business (SMB).
About SDR:
Secure Data Replicator, Inc. has corporate headquarters in Orland Park, IL. Past offerings have been targeted at large corporate entities and public sector client both internationally and domestically. SDR solutions are unique to the industry and work in all major Windows environments on a single integrated platform. In March 2009, SDR announced its latest solution named SWOT which is short to Secure WipeOut Technology.
SWOT allows a portable device to be backed up in real time, located in case of being stolen or lost, wiped out and restored based upon pre-set parameters including geo-fencing capabilities or unusual usage patterns. This is a patented software product recognized as being unique to the industry that offer unique backup and restoration solutions for notebooks, laptops and portable devices.
Concaildi commented that "Competitive products do not even come close to the solutions that SWOT offers. Until now, no one in this industry has been able to dynamically backup, locate, wipe out and restore data on a notebook. Most competitors offer only one or two of these functions and no-one but SDR offers all of these solutions on an integrated platform. It is a perfect solution for any corporation that uses portable devices or is concerned about sensitive company or client information being stolen or lost".
MyDataImage is targeted to protect the small to medium size business (SMB) from data loss by using a scaled back version of the same software solution used to backup enterprise wide data centers. The software is capable of creating a mirror image of SMB data and restores them on demand.
Secure Data Replicator, Inc.
16350 So. 105th Court
Orland Park, Il 60462
http://www.sdrlive.com
###