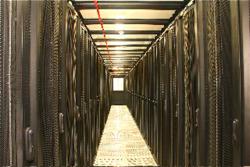 I am confident that Cannon will play an important role in contributing to the work done by the Data Centre Alliance – further enhancing standards in the industry and benefiting our clients all over the world.
New Milton, Hampshire (PRWEB) October 04, 2011
Data centre solutions manufacturer Cannon Technologies has joined the Data Centre Alliance to further enhance the benefits it delivers to customers worldwide.
The Data Centre Alliance is an independent not-for-profit organisation which comprises leaders from across the industry.
It represents the data centre industry to business, government, the media and the public. The DCA promotes best practice design and operational standards, acting as an accreditation body.
Its key priorities include energy management strategies to help reduce power usage and drive down the cost of operating data centres.
Cannon Technologies shares these ideals. The company is helping data centre operators to save energy and cut costs by providing advanced Cold Aisle Containment (Aisle Cocooning) solutions that cut the cost of cooling data centres.
Aisle Cocooning from Cannon seals off the cold air in a data centre, stopping it from mixing with the hot exhaust air – keeping the cold aisles cool and reducing the amount of power spent on cooling.
Cannon Technologies Chairman and CEO Ted Reddicliffe said: "We joined the Data Centre Alliance because it is an unbiased international organisation which provides an important forum for unbiased technical exchange.
"I am confident that Cannon will play an important role in contributing to the work done by the Data Centre Alliance – further enhancing standards in the industry and benefiting our clients all over the world."
Cannon Technologies has a strong research and development philosophy underpinned by a third of a century's experience in the provision of solutions for the IT sector.
The UK-based company is a global leader in the design and manufacture of leading edge data centres, server cabinets, networking cabinets and components for use in data networking, telecoms, information technology and electronics.
Its cutting edge data centre products include low energy cooling and smart power management solutions, security and access control systems.
Cannon has developed a range of solutions to help data centre operators get the best out of their sites:

T4 Data Centres: complete turnkey data centre solutions, from design to support, created in client buildings
T4 Mini Data Centres: single rack data centres with all the infrastructure components in a single enclosure
T4 Modular Data Centres: a modular building with power and cooling for multiple racks or large system components, providing a complete turnkey low cost data centre
T4 ISO Data Centres: ISO containerised data centre solutions for high density loads and mobile applications
T4 Data Centre PODs: aisle containment POD solutions for new or existing data centres
T4 Data Centre Components: products to enhance existing non-T4 solutions
T4 Data Centre Manager: advanced data centre software for remote and local management of security, cooling and power with full system configuration.
Cannon reports growing demand for its technology, which includes the latest intelligent rack mount power distribution units to help reduce energy usage.
Dependable Smart PDU technology from Cannon is helping companies across the world to operate their data centres more efficiently and cost effectively.
Formed in 1978, Hampshire-based Cannon has been a pioneer in the design and manufacture of cooling and power solutions, server and data cabinets, containment and management software for at least three decades.
For further information about data centre solutions, please contact Cannon Technologies' Sales Team, +44(0)1425 632600.
Notes For Editors
Cannon Technologies Ltd
Queensway
Stem Lane
New Milton
Hampshire
BH25 5NU
Tel: +44 (0)1425 632600
Fax: +44 (0)1425 629178
Cannon Technologies is an international leader in the design and manufacture of data cabinets and metal enclosure systems for use in the Data Networking, Telecommunications, Electronics and IT industries.
Cannon Technologies Ltd was established in 1978 by teams from the parent RJF and Scammell groups, with the objective of further developing activity for the defence and commercial sectors, in which key executives had extensive experience. This experience has been perpetuated and the Cannon Technologies Group was formed.
Today, Cannon Technologies has achieved sector leadership and is renowned for a high level of investment in R&D and product development.
###