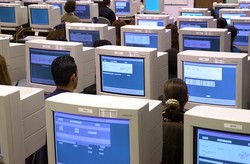 We go to great lengths to honor the requests of our customers, even if that means managing the logistics of a last-minute, national promotion
El Paso, TX (PRWEB) August 11, 2009
When several million chicken dinner coupons were generated from a client's recent marketing promotion, Fulfillment Concepts, Inc., a Louisville-based company specializing in fulfillment, digital printing and mail services turned to DATAMARK, a leading provider of business process outsourcing services, to perform fast turnaround data entry services.
Despite a two week turnaround requirement, DATAMARK was able to quickly ramp up operations by leveraging their onshore and near-shore processing centers located in Texas and Mexico.
"Because it was critical to the success of the client's promotion to perform the data entry service quickly, we structured our staffing and work flow to accommodate their large staffing requirements," stated Ana Moreno, DATAMARK Project Manager. "To maintain the integrity of the data we utilized strict quality control standards that greatly reduced the chance for potential errors."
"We go to great lengths to honor the requests of our customers, even if that means managing the logistics of a last-minute, national promotion," commented Kate Jewell, FCi marketing.
"DATAMARK, one of the top BPO service providers in the industry, was instrumental in quickly converting our client's coupons into a digital format that made it possible to interpret and manage our customer's data, ensuring speed and accuracy of service."
About DATAMARK, Inc:
DATAMARK is a provider of business process outsourcing (BPO) services, including: Inbound mailroom services, Scanning, OCR, Data entry services, Indexing, Remote processing solutions, X-ray conversion, Fax server solutions, Adjudication, Decisioning, On-line document storage, and Confidential destruction.
DATAMARK is responsible for the development of several 'best-practice' outsourcing solutions utilized by Fortune 500 companies.
With a flexible workforce of over 2,000 employees worldwide, spanning onshore, near-shore and far-shore facilities, DATAMARK offers multiple cost options and versatile services tailored to each client's unique requirements.
To learn more about DATAMARK's outsourcing solutions visit: http://www.datamark.net .
About Fulfillment Concepts, Inc:
Founded in 1988, Fulfillment Concepts, Inc. (FCi) is a cutting edge fulfillment, digital print, interactive development, mail services, and one-to-one marketing company with over 100 years collective experience in the fulfillment and mail industry. The company recently purchased a new Xerox iGen4 digital color press, one of only a few in the state. FCi is an ISO-9001 certified organization and is one of only five companies worldwide to be accredited through the Mailing and Services Association (MFSA).
For more information please visit http://www.fulfillmentconcepts.com .
###