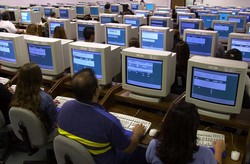 Because of large volume fluctuations and critical turnaround times, we structured our staffing and workflow to accommodate their demanding manpower requirements
El Paso, TX (PRWEB) October 27, 2009
To maintain their commitment to provide fast international shipping services and comply with international customs regulations, an undisclosed Fortune 100 shipping and logistics firm turned to global BPO firm, DATAMARK, Inc., to perform data entry services for the company's international shipments.
Critical to the firm's ability to generate the manifest documents required to clear inbound cargos through customs, data is captured from scanned waybill images and remotely entered into the company's system.
In an effort to reduce cargo delays and the costs associated with those delays, DATAMARK developed a dynamic staffing model that leverages the company's onshore, near-shore, and offshore data processing facilities to meet the demanding throughput requirements.
"Because of large volume fluctuations and critical turnaround times, we structured our staffing and workflow to accommodate their demanding manpower requirements", commented Sandra Garcia, DATAMARK Commercial Manager. "The solution we developed…is extremely flexible, supporting the large fluctuations by strategically structuring 250 full time staff across three shifts, which enables the client to process twenty-four hours a day, six days a week."
As accuracy and timeliness are critical to clearing Customs without financial penalties, data entry is performed on the airbills with the nearest approaching estimated time of arrival to insure that manifests can be generated, transmitted and verified by customs in the time dictated by regulation.
From 1989 to present, DATAMARK has performed data entry services on over 1.75 billion airbill invoice forms - the equivalent of 200 billion keystrokes.
About DATAMARK, Inc:
DATAMARK has been processing Manifests, Airbills, Waybills and Bills of Lading since 1990. As one of the leading global outsourcing firms based in the U.S., DATAMARK is responsible for the development of several 'best-practice' outsourcing solutions used by many Fortune 500 companies today.
DATAMARK's core services include: Inbound mailroom services, Scanning, OCR, Data entry services, Indexing, Remote processing solutions, X-ray conversion, Fax server solutions, Adjudication, Decisioning, Reconciliation, On-line document storage, and Confidential destruction.
With a flexible workforce of over 2,000 employees worldwide, spanning onshore, near-shore and offshore facilities, DATAMARK offers multiple cost options and versatile services tailored to each client's unique requirements.
To learn more about DATAMARK's outsourcing solutions and document conversion services visit: http://www.datamark.net.
###