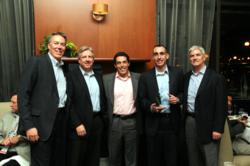 We greatly appreciate SSG's commitment and want to recognize their expertise across the Informatica Platform.
Richardson, Texas (PRWEB) January 29, 2013
SSG, Ltd. is very pleased to announce they have been named Informatica's 2012 U.S. Channel Partner of the Year. Brad Kern, senior vice president of channels and alliances for Informatica, presented the award to SSG CEO Steve Steinheimer and David Hermanski, the managing director of SSG's data management practice.
"We are very happy to recognize SSG's outstanding efforts in our U.S. Channel Program by presenting them with our U.S. Channel Partner of the Year award," Kern said. "We greatly appreciate their commitment and want to recognize their depth of expertise across the Informatica Platform."
SSG's award was officially announced during the Partner Appreciation Dinner event at Informatica's Worldwide Sales Kick Off (SKO2013), held January 13-16 in San Francisco. The honor resulted from SSG's Informatica Platform proficiency, which enables them to professionally collaborate with joint client organizations, resulting in successful product and solution implementation.
"As an Informatica channel partner and consulting partner, SSG will continue to build its Data Management Practice specifically around our Informatica Platform expertise," Hermanski said. "This will be key in providing our clients with solutions that address Extended Enterprise Data Integration, Data Quality, Information Life Cycle Management (ILM) and Cloud Data Integration. We very much appreciate this award and recognition from our world-class partner, and remain a deeply committed channel partner looking forward to working together for an even better 2013!"
About SSG, Ltd.
Founded in 1997, SSG, Ltd. is a Dallas-based Oracle Gold Business Partner and Informatica Channel and Consulting Partner specializing in Billing and Revenue Management (Oracle BRM), Data Management (Informatica Platform and Oracle DW/BI) and Custom Software Development. As a premier software professional services firm, SSG specializes in building trust-based relationships and solving complex problems in business-critical applications for our clients. The ideal SSG client has made significant investments in technology and values a partner they can depend on to bring a depth of experience and solve their technology challenges right the first time. SSG prides itself on providing the highest quality service to its clients with an unrivaled level of professional integrity, and is also proud to have been named one of the Dallas Business Journal "Best Places to Work" for three consecutive years.
For more information about SSG's services, please visit http://www.ssglimited.com.