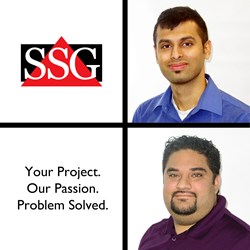 We are excited to have both Kathan and Dave join our expanding data management practice.
Dallas, Texas (PRWEB) January 28, 2014
Dallas-based software professional services company, SSG, today announces the additions of Kathan Shah as consultant and Dave Barman as senior consultant for the company's data management practice.
In his new role as consultant, Shah will be working in project teams to help clients solve difficult enterprise integration challenges and transferring his knowledge to client resources. Shah holds a bachelor's degree in electronics and communications. After working with the Informatica Platform as a systems engineer at Infosys, he received his master's degree in management information systems from Texas A&M University.
As a senior consultant in the data management practice, Barman will be responsible for working with SSG clients to design and implement effective data management solutions leveraging the Informatica data integration, data quality and information lifecycle management product families. Prior to joining SSG, Barman was a senior information analyst at The Children's Hospital of Philadelphia. A former Informatica Professional Services employee, Barman has 12 years of experience with the Informatica Platform and data management, along with a background in the finance, insurance, pharmaceutical, healthcare and retail industries.
"Kathan's solid experience with the Informatica Platform makes him an ideal fit for our team," said Paul Scott, director of data management professional services for SSG. "Dave's extensive administrative and development background makes him a thought leader in deploying the Informatica Platform. We are excited to have them both join our expanding data management practice."
For more information on SSG's professional services, please visit http://www.ssglimited.com.
About SSG
Founded in 1997, SSG, Ltd. is a Dallas-based Oracle Gold Business Partner and Informatica Channel and Consulting Partner specializing in Billing and Revenue Management (Oracle BRM) and Data Management (Informatica Platform and Oracle DW/BI). As a premier software professional services firm, SSG specializes in building trust-based relationships and solving complex problems in business-critical applications for our clients. The ideal SSG client has made significant investments in technology and values a partner they can depend on to bring a depth of experience and solve their technology challenges the first time. SSG prides itself on providing the highest quality service to its clients with an unrivaled level of professional integrity, and is also proud to have been named one of the Dallas Business Journal "Best Places to Work" for three consecutive years.