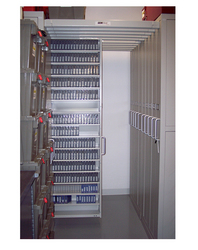 Each owner is focused on high-end client service and the ultimate in fireproof, earthquake-proof media vault chambers. This is a model unique in the industry.
Kutztown, PA (PRWEB) June 30, 2010
Recent courtroom rulings that hold corporate officers legally and financially accountable for protecting and producing their company's vital records have changed the way executives think about information management. The old model of storing records in warehouses suitable for storing commodities is no longer acceptable. This is especially true against the backdrop of recent media headlines about information losses and the costly consequences of that mismanagement.
Executives have come to understand that successfully managing the modern world of risk means that vital information must be protected, while remaining accessible at a moment's notice. WesTex Data Vault is a commercial data center with collocation, backup, and disaster recovery services, along with space for containerized data center modules, such as Secure Agile Vault Environment(SAVE) units, in a parking lot across the street from the Lubbock Police Academy. Their facility is ideally situated to serve the business continuity plans of major corporations and government organizations. WesTex is one of only two companies in the nation approved to store records for the nuclear industry. One of the reasons WesTex meets the Department of Energy's NQA-1 standards for information management is their investment in FIRELOCK Class 125 data-rated vaults to protect their client's information.
The increased demand for superior data protection services has resulted in growth for this industry, even in a down economy where most businesses have seen declining revenues. As Greg Bullard, one of the ownersof IG2 Data Security, Inc. in Chicago states: "IG2 has received a positive response over the past 8 years to our unique approach to data security. The protection and benefits provided by our business model are designed to exceed any other media vaulting operation in the Midwest. Our secure vault chamber, precise environmental controls and sophisticated tracking software give our clients peace of mind in knowing that their valuable data tapes will be protected and available if they are needed."
According to Hugh Smith, President of FIRELOCK, "This platform has propelled rapid growth and IG2's owners are now expanding into a new space that will allow them to expand their offerings to other cutting edge IT services. Lost or misplaced tapes are unheard of and their E-vaulting service model is designed for client integrity and access on demand. This is what you would expect from a business founded by two attorneys specializing in intellectual property law."
Another locally owned and operated data protection firm that provides the level of protection savvy executives demand is Advanced Records Management(ARM) in Plymouth, Minnesota. ARM has been providing various records storage services since 1995. According to Mike Fronius, Vice President of ARM: "In addition to protecting client backup media through the physical security of our FIRELOCK vault and all its features, ARM utilizes the complete functionality of our software to assure we are working in sync with our customer's tape management software. First, we import our customer's picklists and e-mail requests into our mobile scanning devices. Then each item is scanned multiple times during the pickup and delivery process to assure 100% accuracy. Every scan is time/date stamped which provides a complete chain of custody."
"The team at Advanced Records Management went over the top to deliver what we needed to feel confident that our media were safe, protected and available when we needed them," says Matt Mellenthin, an IT executive for a Fortune 500 company who declined for security reasons to be named in this story. Matt was part of the team that made the switch to ARM's services. "We knew that we were protected by FIRELOCK vaults at a level far better than what we had before."
One thing WesTex Data Vault, IG2 Data Security and Advance Records Management have in common is they are members of the Secure Media Vault Associates(SMVA) network. Along with over 60 other members of this network, they protect their client's mission critical information in data-rated FIRELOCK vaults. They are all independently owned and operated but can collaborate to service clients with multiple locations. This way their customers have the best of both worlds: the attention to detail and superior facilities of an independently operated business along with the coverage of a national organization.
Bob Davis, a business consultant in Austin, Texas described the philosophy this way: "Secure Media Vault Associates is a geographically diverse, owner managed network of ultra-secure media vaulting service centers. Each owner is focused on high-end client service and the ultimate in fireproof, earthquake-proof media vault chambers. This is a model unique in the industry." When the SMVA network couples this high security approach with the flexibility to meet their client's individual needs, it is easy to understand why this formula is successful. Larger competitors cannot offer this level of client satisfaction and security. In past years, larger players attempted to buy up the high profile centers but the clients would simply move away from the "Walmart approach" and find another service provider willing to design their service model to meet their security needs.
The trend toward greater penalties for mismanagement of information indicates C-level executives' demand for superior data protection services will continue to grow. The companies profiled above, and their network partners, are poised to meet this demand with their unique capabilities.
###