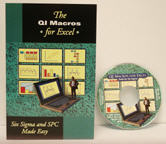 The QI Macros Lean Six Sigma SPC software has supported Excel for the Macintosh since 1998.
Denver, CO (PRWEB) December 27, 2011
KnowWare International Inc. announces the availability of Data Analysis tools for Excel 2011 (Macintosh).
Microsoft removed the Data Analysis Toolpak from Excel 2011 for the Macintosh in 2008 eliminating statistical tools such as ANOVA, t Test, F Test and regression analysis. Hypothesis testing using these tools is a key ingredient in advanced problem solving. So the loss of these tools has been a major challenge for students of Six Sigma who use the Macintosh, but not anymore.
The QI Macros Lean Six Sigma SPC software has supported Excel for the Macintosh since 1998. The Analysis Toolpak has been rewritten for Excel 2011 and includes many previously unavailable features like 1-sample t Tests, Fishers Exact test, Levene's test, Normality tests, Non-Normality tests and Proportion tests. There's even a Statistics Wizard to simplify hypothesis testing.
The QI Macros are an add-in for Microsoft Excel that automate all of the charts and diagrams required for statistical process control (SPC) and Lean Six Sigma. The QI Macros consist of four parts: 1) 30 charts and two "Chart Wizards" that use existing Excel data to create pareto, control charts, and histograms; 2) over 90 fill-in-the-blank templates for Lean Six Sigma; 3) a Statistics Wizard; and 4) data transformation tools like the PivotTable Wizard that automates data analysis.
Unlike complex statistical tools, the QI Macros tools can be used by anyone from nurses to Six Sigma Black Belts. Users most often say that the QI Macros are convenient and hassle free: 1) Easy to learn. The pull-down menu gives immediate access to all tools; 2) Works directly on Excel data; and automates the most commonly used Lean Six Sigma improvement tools.
Download a 30-day evaluation copies of the QI Macros for Excel at http://www.qimacros.com/freestuff.html. Readers can also signup for a free email course on Lean Six Sigma. For more information, testimonials, and pricing go to http://www.qimacros.com/excel-spc.html.
###