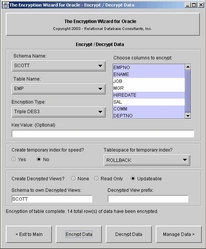 Release 6 now ships with the Free Software Foundation's GNU Crypto Java library to offer secure AES256 Encryption for both Standard and Enterprise Oracle database licenses
Los Angeles, CA (PRWEB) September 21, 2009
Relational Database Consultants, Inc., http://www.relationalwizards.com, unveiled its new release of the Encryption Wizard for Oracle. The Encryption Wizard is a transparent data encryption security suite designed exclusively for the Oracle RDBMS.
"Release 6 now ships with the Free Software Foundation's GNU Crypto Java library to offer secure AES256 Encryption for both Standard and Enterprise Oracle database licenses," announced marketing director Don Parret.
The Encryption Wizard has been providing transparent data encryption for Oracle security managers since 2002. Through a Java-based graphical interface, authorized users can encrypt schema, table, or column data with the click of a mouse. The new release of the Encryption Wizard also ships with powerful auditing and password protection features necessary to combat relational data theft.
"With GNU Crypto, Oracle Standard Edition databases can now host encrypted applications to meet compliance standards such as PCI, HIPPA and CISP," Parret said.
In the new release, users can optionally load the GNU Crypto Java library directly into the Oracle database. Once this is accomplished, intelligent PL/SQL modules integrate the Java AES ciphers into the Encryption Wizard's cryptography definitions. This provides Oracle Standard Edition databases a free open-source alternative to Oracle's DBMS_Crypto package.
"Although Oracle's own AES cryptography is slightly faster than GNU Crypto, their Java libraries will give our customers more flexibility in choosing new encryption methods in the future," explains David Singer, one of the developers of the Encryption Wizard.
Free trial downloads of the Encryption Wizard for Oracle are available at:
http://www.relationalwizards.com/html/oracle_encryption.html
###