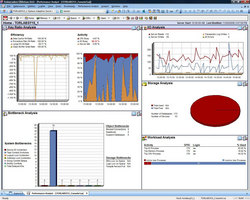 Already, Delphi, C++ Builder and Change Manager have been upgraded with full Unicode support and we also plan to add Unicode support to Rapid SQL this year.
San Francisco, CA (PRWEB) September 21, 2009
Embarcadero, a leading provider of multi-platform database tools and developer software, is adding Unicode support and a number of innovative database administrator (DBA) productivity features to the latest release of DBArtisan, a database administration tool that supports all major database platforms from a single interface.
Using DBArtisan 8.7, DBAs handling data across continents or working with Unicode data such as Chinese, Japanese and Korean characters can effectively manage data in different languages and be assured that the data is accurately handled and displayed by DBArtisan.
"Embarcadero is committed to our customers globally. By internationalizing DBArtisan with full Unicode support, we're making it easier for DBAs to do their jobs efficiently, no matter their location or language," said Michael Swindell, vice president of products for Embarcadero Technologies. "Already, Delphi, C++ Builder and Change Manager have been upgraded with full Unicode support and we also plan to add Unicode support to Rapid SQL this year."
Other new features in DBArtisan 8.7 geared toward assisting DBAs include:

Enhanced ISQL Editor - New innovations in the SQL editor help DBAs reduce the likelihood of keying errors and ensure the use of proper syntax. The SQL editor now supports "on-the-fly" syntax checking of code and object names, full object look-up throughout the SQL statement and code complete functionality.
Filtered Views - Three new filtering options - simple, complex and node - enable DBAs to better control the user interface and work more efficiently. Simple filtering allows objects to be hidden based on naming, complex filtering allows the creation of custom filters at the data source level, and node filtering is defined at the DBMS platform level.
Upgraded DB2 z/OS Support - Some of the new features specifically designed for z/OS administrators include object filtering, extended alter in tables, data import and export, migration support and generation of LOAD utility control statements.
Data Source Management - New time-saving features in the data source explorer pre-populate the entire contents of the explorer tree with one click. Plus, new import and export features let DBAs quickly capture registered data source information for backup, migration to other machines or to share data source information with others.
DBArtisan is designed to help DBAs maximize the availability, performance and security of their databases. DBArtisan's consistent and unified support for all major database platforms allows organizations to standardize on one solution for database administration. DBArtisan supports IBM® DB2® for LUW, DB2 for z/OS® and DB2 for OS/390, Microsoft® SQL Server, MySQL®, Oracle®, and Sybase®.
DBArtisan 8.7 is now available worldwide. As with all Embarcadero products, DBArtisan is also included as part of the Embarcadero® All-Access™ tool chest.
For more information and pricing, please visit: http://www.embarcadero.com/products/dbartisan
To view a video demonstration of DBArtisan 8.7, please visit: http://www.embarcadero.com/products/dbartisan/productdemos
About Embarcadero Technologies
Embarcadero Technologies, Inc. is a leading provider of award-winning tools for application developers and database professionals so they can design systems right, build them faster and run them better, regardless of their platform or programming language. Ninety of the Fortune 100 and an active community of more than three million users worldwide rely on Embarcadero products to increase productivity, reduce costs, simplify change management and compliance and accelerate innovation. Founded in 1993, Embarcadero is headquartered in San Francisco, with offices located around the world. Embarcadero is online at http://www.embarcadero.com.
Embarcadero, the Embarcadero Technologies logos and all other Embarcadero Technologies product or service names are trademarks or registered trademarks of Embarcadero Technologies, Inc. All other trademarks are property of their respective owners.
###