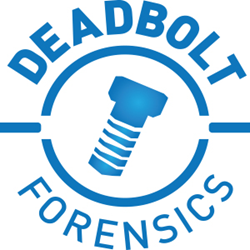 It is absolutely vital that organizations contact a professional digital forensics agency whenever there is a possibility that electronically stored information, such as payment card information, has been stolen
(PRWEB) September 30, 2014
In light of recent high-profile data breaches, Deadbolt Forensics today released a public statement highlighting the importance of involving digital forensics experts in data breach investigations. Home Depot, the nation's largest home improvement retailer, confirmed in early September that its payment data systems were breached (1).
Home Depot is just one of several big-box retailers to experience a data breach in the past two years. Other victims of these attacks included Target Corp., Neiman Marcus Group Ltd. and P.F. Chang's China Bistro (2). Home Depot has stated that approximately 56 million payment cards could have been compromised in the cyber-attack against its stores, making this data breach even larger than the unprecedented breach at Target last year (3). This unmatched cyber-attack has left countless consumers vulnerable to fraudulent payments and possible identity theft.
"In the twenty-first century, consumers rely heavily on technology, which often puts them at risk to attacks by cyber criminals. We pay with debit and credit cards online, at retail stores, at restaurants, at gas stations and nearly everywhere we go. Consumers trust retailers with their payment card information and personal data, but unfortunately even the most well-known businesses are vulnerable to these attacks," said Michael Yasumoto, Senior Forensic Analyst at Deadbolt Forensics.
"It is absolutely vital that organizations contact a professional digital forensics agency whenever there is a possibility that electronically stored information, such as payment card information, has been stolen. By utilizing the expertise of digital forensic analysts, victims of cyber-crimes are able to identify their vulnerabilities and strengthen their security – and the security of their customers' personal information – in the future," Yasumoto continued.
Deadbolt Forensics works with clients in the states of Oregon, Washington and Alaska, focusing on computer and mobile forensics and associated services.
For more information on Deadbolt Forensics or to learn more about the digital forensics services offered, please visit their website at https://www.deadboltforensics.com.
About Deadbolt Forensics:
Deadbolt Forensics is a privately held company focused on digital forensics and the associated services of data preservation, electronic evidence retrieval, analysis, neutral expert witness services, hard drive sanitization, and password/data recovery. The company works directly with attorneys and litigation support teams in both criminal and civil cases supporting plaintiff and defense clients. Deadbolt Forensics accepts clients in the states of Oregon (Registry# 906073-92), Washington (License# 603343020), and Alaska (License# 1000625). For more information on pro bono services offered to our partners in the non-profit sector, please contact us at publicrelations(at)deadboltforensics(dot)com.
Contact:
Deadbolt Forensics, LLC
1915 NW AmberGlen Pkwy Suite 400 Beaverton, OR 97006
Phone: (503) 683-7138
Fax: (503) 296-5504
Email: info(at)deadboltforensics(dot)com
Web: deadboltforensics.com
Sources:
(1) "Home Depot Confirms Data Breach. Investigating Transactions from April Onward." Published September 8, 2014. http://www.forbes.com/sites/maggiemcgrath/2014/09/08/home-depot-confirms-data-breach-investigating-transactions-from-april-onward/
(2) "Home Depot Investigating Possible Payment Card Data Breach." Published September 2, 2014. http://online.wsj.com/articles/home-depot-investigating-possible-payment-card-data-breach-1409681544
(3) "Data Breach at Home Depot Leads to Fraud." Published September 23, 2014. http://fortune.com/2014/09/23/data-breach-at-home-depot-leads-to-fraud/