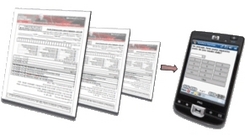 Innovation is the heart of our company
Hubbard, OH (PRWEB) June 9, 2010
Dooblo, the Leader in Mobile PDA Survey Software / Data Collection Software and Analysis Solutions and ALFAMARS announced today that ALFAMARS will provide SurveyToGo services to Turkey-based companies.
ALFAMARS will provide implementation, training, support and other value-added services on top of SurveyToGo to local Turkey-based companies.
SurveyToGo is a PDA Data Collection Software that enables the creation, conduction and management of electronic mobile surveys, laptop field surveys and PDA surveys. Surveys are first designed and saved to the server, and then synchronized to either PDAs or laptops for field data collection.
About ALFAMARS
Specializing in branding, photography and consulting, ALFAMARS has been in the market under different companies for over eight-years. Branding must be carried out with scientific proof via market research, thus ALFAMARS' primary focus in its first year will be to provide technological background to research and market research companies. Along with this, the company will continue to serve branding, photography and consulting services to local and national customers.
For more information, please visit http://www.alfamars.com
About Dooblo
Based in Kefar Sava, Israel, privately-held Dooblo has been developing award-winning mobile data collection and analysis software since 2001. The SurveyToGo solution provides data collecting enterprises and market research firms all the Mobile PDA, Web, laptop, SMS data collection and analysis services they need. Dooblo's Mobile Survey Software provides real-time forms and survey creation and deployment, field agent management, and ultra flexible and customizable reports. This in turn, removes stress and paperwork from the enterprise data collection process, while saving time and money, improving data quality and supplying real-time insights and reports.
For more information, please visit http://www.dooblo.com.
###