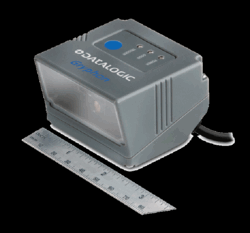 Eugene, OR, USA (PRWEB) May 05, 2011
Datalogic Scanning recognizes the challenges presented by the continued technological advances found within the AIDC worldwide market. A global leader in bar code scanning, Datalogic continues to offer creative and cutting edge innovations and in doing so proudly announces the Gryphon™ GFS4100 scan module. This OEM scan module is based on the Datalogic Gryphon handheld reader and its imaging technology and is designed to address the needs of the self-service kiosk, transportation, biomedical, and other markets. Industry reports predict the kiosk market will continue to exhibit steady growth, creating an increased need for compact, high performance bar code scanning solutions. Bottle returns, payments of utility bills, and DVD rentals are just a few of the increasing venues calling for bar code reading solutions within the kiosk market. Innovations in entertainment and transportation require high performance readers for ticket takers, both for print at home and mobile phone applications. In healthcare, bar coding is a critical technology for improving the quality and efficiency of care in hospitals, clinics, and laboratories and OEM scan modules are an important part of the solution.
The Gryphon GFS4100 module is the most advanced 1D OEM scanning module on the market. It offers the same excellent imaging technology found in the Gryphon™ GD4100 handheld reader, in a compact form factor that was designed with ease of integration in mind. Now, customers can easily integrate a proven world class scanning solution, regardless of their level of expertise in scanning technology.
The Gryphon GFS4100 scan module offers snappy reading performance and solid state design resulting in high reliability while reading all common 1D bar codes, including GS1 DataBar™ bar codes. The state-of-the-art imaging technologies provide a quicker read speed of 320 scans a second. Its imaging optics and Datalogic decoding algorithms are superior in reading poorly printed and damaged bar codes. With a wide field of view, the Gryphon GFS4100 scan module's reading capabilities easily handle long labels, and it will read a standard EAN13/UPC 13 mil bar code from 3.0 cm/1.25 in. to over 40.0 cm/ 15.75 in. As with Datalogic handheld scanners, Datalogic's Aladdin™ software configuration program is available for easy set-up.
Unique in the scanning industry, the Gryphon GFS4100 scan module incorporates Datalogic's patented Green Spot technology. This feature supplies two important user friendly features for the customer: a visual indicator of the accomplishment of a good read, and an aiming indicator for presenting a bar code in the reader's field-of-view.
The kiosk market extends into many different environments, some of them quite harsh. The GFS4100 scan module is constructed of high impact, solvent resistant plastics, making it a perfect choice in healthcare settings, where frequent cleaning with disinfectant solutions is needed. For outdoor applications the GFS4100 scan module steps up to the challenge with an IP54 sealing rating, so it's highly resistant to intrusions of particulates and moisture that could compromise scanning abilities.
Compact and snappy performance, ease of integration and leading image technology, the Gryphon GFS4100 scan module is the answer to the kiosk market's 1D scanning needs, and Datalogic's Magellan 1100i OEM scan module steps up when 2D reading capabilities are needed.
About Datalogic Scanning
Datalogic Scanning is the worldwide leader in fixed position retail scanning offering both in-counter and on-counter point-of-sale scanners and the best known provider of handheld scanners in EMEA, with the most complete line of general purpose and ruggedized handheld scanners in the world.
A division of the Datalogic Group, Datalogic Scanning is headquartered in the US with a presence in over 120 countries. The company serves multiple industries throughout the retail supply chain and distribution channel as well as manufacturing, government, healthcare, banking and finance sectors.
Datalogic and the Datalogic logo are registered trademarks of Datalogic S.p.A. in many countries, including the U.S.A. and the E.U. Datalogic Aladdin is a trademark of Datalogic S.p.A. and Gryphon is a trademark of Datalogic Scanning, Inc. Magellan is a registered trademark of Datalogic Scanning, Inc. in many countries, including the U.S.A. and the E.U. All other brand and product names may be trademarks of their respective owners.
For additional information about Datalogic Scanning products, please visit our web site, email marketing(dot)scanning(at)datalogic(dot)com, or call +1-800-695-5700 (toll-free in the USA only) or +1-541-683-5700.
CONTACT:
Pam McQueen
pam(dot)mcqueen(at)datalogic(dot)com
+1-541-302-2012
###