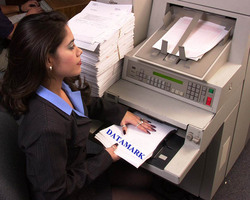 Being in the business for over 20 years, we have built a very qualified team of experts to tackle these kinds of technical and timeline challenges
El Paso, TX (PRWEB) June 8, 2009
DATAMARK, Inc., a leading provider of Medical Record conversion services, was contracted by Fort Lee Surgical Center, a state of the art, surgery facility, located in Ft. Lee, New Jersey, to scan and index patient records into a digital image file format for long term storage and retrieval.
Investing in technologies that provide patients with the highest quality of patient care, Fort Lee Surgical Center made the decision to convert to a digital format in an effort to maintain their commitment to superior customer service.
DATAMARK leveraged their on-shore outsourcing center located in El Paso, Texas, to exceed all timeline expectations, converting over 1,000 patient files to image every day. Patient files consisted of paper documents, X-rays and color photos.
"Being in the business for over 20 years, we have built a very qualified team of experts to tackle these kinds of technical and timeline challenges," commented Matt Lochausen, Vice President of DATAMARK, in response to whether the client requirements were manageable.
DATAMARK evaluated all file formats and compression ratios to determine the best combination of image resolution and file sizes to maximize Fort Lee's internal efficiencies. Paper patient files were converted into 200dpi color JPEG images, Patient photographs were converted into 200dpi color JPEG images, and Patient x-rays were converted into 100 dpi color JPEG images.
For additional information on medical record scanning and indexing, as well as other outsourcing services, contact Aaron Adjemian or visit http://www.datamark.net.
About DATAMARK:
DATAMARK provides business process outsourcing (BPO) services to world class companies with a wide variety of needs. Core competencies include Medical record processing, Remittance Processing, X-ray conversion, Document scanning, Inbound mailroom operations, Fax server solutions, OCR technology, Indexing, Data entry, Adjudication, Decisioning, On-line document storage, and Confidential destruction.
With 20 years of outsourcing experience and a flexible workforce of over 2,000 employees worldwide, spanning on-shore, near-shore and far-shore facilities, DATAMARK offers versatile services tailored to each client's unique requirements.
###