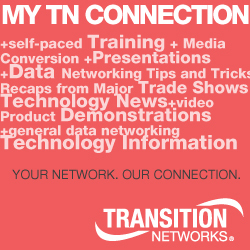 Minneapolis, Minnesota (PRWEB) October 31, 2007
IT professionals are harnessing the power of social media to get their job done. Online social media and forum participation has increased dramatically by data networking professionals who are looking to discuss industry trends and tips with like-minded industry experts. This appetite for knowledge sharing has fueled the emergence of new social media sites.
Transition Networks Inc., the conversion technology expert, a wholly owned subsidiary of Communications Systems, Inc. (AMEX:JCS), today announced the launch of My TN Connection - a social media resource and forum for the data networking professional. My TN Connection offers IT professionals the chance to voice their opinions, make new product suggestions, and provide feedback to Transition Networks on their current product offering.
My TN Connection serves as an extension of Transition's home website and is designed to provide the data networking professional with a social media platform to discuss industry trends, news and tips with like-minded industry experts. My TN Connection focuses on distributing relevant and useful web content via the use of articles, RSS feeds, video and self-paced trainings and includes:

Self-paced data networking training presentations
Useful and practical data networking tips and tricks
Recaps from major industry trade shows
Unbiased technology news and analysis
Video product demonstrations
General networking technology Information
Registration is free.
"There is no dispute that social community sites offer professionals a venue for sharing ideas and knowledge. As more IT professionals turn to online forums for best practices and lessons learned, we wanted to create an environment where data networkers could participate in industry-specific discussions," said Bill Schultz, Executive Vice President and General Manager for Transition Networks. "My TN Connection enables data networking administrators to join in professional discussions and contribute in ways that allow them to learn and to offer their opinions. We are excited to see the community grow."
For additional information on My TN Connection, contact Patrick Schaber or visit http://www.mytnconnection.transition.com.
About Transition Networks Inc.
Transition Networks Inc. offers networking connectivity solutions that make networks perform better, faster and more reliably while helping companies leverage their existing networking infrastructure. The company's Transition Networks brand of media converters make conversion between disparate media types possible, providing conversion technology solutions that offer the necessary adaptations without affecting the performance, nature or appearance of the network. Its complete Milan portfolio of multilayer switching and wireless products are designed to facilitate low-cost network evolution with unique solutions, easing the stress on networks caused by high-bandwidth applications. Based in Minneapolis, Transition Networks distributes hardware-based connectivity solutions exclusively through a network of resellers in 50 countries, including Ingram Micro and Tech Data. Transition Networks is a wholly owned subsidiary of Communications Systems, Inc., a publicly traded company (AMEX: JCS).
Statements regarding the Company's anticipated performance in 2007 are forward-looking and involve risks and uncertainties, including but not limited to: competitive products and other factors discussed from time to time in the Company's filings with the Securities and Exchange Commission.
###