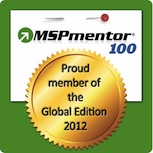 Rockville, MD (PRWEB) February 21, 2012
Dataprise, Inc., (http://www.dataprise.com) a Rockville, Maryland-based leading IT managed services provider (MSP), has landed on Nine Lives Media's fifth-annual MSPmentor 100 Global Edition, a distinguished list and report identifying the world's top 100 MSPs. This is the third year in a row that Dataprise has made the report and ranked as one of the top 15 MSPs worldwide.
This year's report has been expanded extensively to include:
● The MSPmentor 100 Global Edition
● The MSPmentor 200 North America Edition
● The MSPmentor 50 EMEA (Europe, Middle East, Africa) Edition
● The MSPmentor 25 AANZ (Asia, Australia, New Zealand) Edition
"We are certainly proud to be listed again on Nine Lives Media's prestigious MSPmentor global100 report," said David Eisner, President & CEO, Dataprise. "We are a team comprised of dynamic industry leaders. We strive for best practices and are constantly innovating. We have a sophisticated infrastructure, which enables growth and allows us to reach a global base."
The MSPmentor 100 report is based on data from MSPmentor's global online survey, conducted October-December 2011. The MSPmentor 100 report recognizes top managed service providers based on a range of metrics, including annual managed services revenue growth, revenue per employee, managed services offered and customer devices managed.
MSPmentor, produced by Nine Lives Media, is the number one online media destination for managed service providers in the world, and a leading global destination that delivers analysis of the evolving MSP industry.
"Nine Lives Media and MSPmentor congratulate Dataprise for earning this distinguished honor," said Amy Katz, president of Nine Lives Media, a division of Penton Media. "As our expanded survey results reveal, the annual MSPmentor 100 survey attracts MSPs from across the globe. Qualifying for our MSPmentor 100 Global Edition list is a great accomplishment."
"MSPs on this year's global 100 list lifted their annual recurring revenues 28 percent to $1.04 billion, an incredible showing considering the economic uncertainty all IT services providers faced," said Joe Panettieri, editorial director of Nine Lives Media. "Those MSPs are now managing 2.7 million desktop and mobile devices for customers, an incredible jump of 50 percent from 2010."
About Nine Lives Media
Nine Lives Media, a division of Penton Media, defines emerging IT media markets and disrupts established IT media markets. The company's IT channel-centric online communities include MSPmentor (http://www.MSPmentor.net), The VAR Guy (http://www.TheVARguy.com), Talkin' Cloud (http://www.TalkinCloud.com), VARtweet (http://www.VARtweet.com) and MSPtweet (http://www.MSPtweet.com). For more information, visit http://www.NineLivesMediaInc.com.
ABOUT DATAPRISE, INC.
Headquartered in Rockville, Maryland, Dataprise, Inc. is a leading information technology managed services provider and systems integrator that solves the technology challenges of small and medium-size business. With offices in Washington, DC, New York City, Baltimore, Philadelphia and Northern Virginia, Dataprise is an outsourced technology partner to hundreds of clients throughout the Mid-Atlantic, helping organizations manage their networks and leverage their technology investments. Dataprise offers affordable technical support and consulting services including its revolutionary Support365™ plans. These comprehensive,
scalable plans meet the unique needs of small and medium-size businesses by offering a holistic and personal approach to IT support services. Learn more about Dataprise, Inc. by visiting http://www.dataprise.com and follow the firm at Twitter.com/dataprise.
CONTACT:
Daniel Clarke (301) 945-0700, press (at) dataprise.com.
###