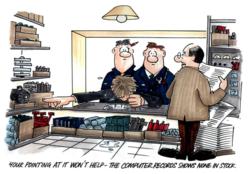 Have no fear, data quality is not a technical issue, it is a business issue and ISO 8000 can solve it!
Bethlehem, PA (PRWEB) July 25, 2011
PiLog USA, Inc. announced today that they will hold an ISO 8000 Master Data Quality Manger (MDQM) webinar on August 17th from 9:30am – 1:30pm EST. This interactive webinar includes a guided background into data quality and ISO 8000 as well as a practical exercise in applying ISO 8000 to improve data quality.
As the practical solution to managing data quality, ISO 8000 is reaching an ever wider international audience suffering from poor data quality issues. The webinar will cover the characteristics of data and how these can be used to reliably and objectively measure data quality. Once data is measured, there is a better understanding of how to begin improving the quality of data. The costs and benefits of these improvements can be easily demonstrated throughout any organization. In addition, individuals working with data issues will be able to move faster and more accurately throughout projects and programs.
Have no fear, data quality is not a technical issue it is a business issue. During this ISO 8000 MDQM webinar, learn the basics of what it takes to define your requirements for data as well as ask for the data needed. This webinar provided by PiLog gives knowledge and insight needed to take the first steps to improving data quality.
This webinar is $500 per person, register for it at http://www.pilog.in/ISO8000workshop08172011.doc. Spots are limited; please register as early as possible.
After successfully completing this course, the option to become recognized as an ISO 8000-110:2009 Master Data Quality Manager is available by applying for a certificate from ECCMA. Along with a certificate, appear on the registry of certified managers webpage, have access to their discussion group on LinkedIn and receive the logo to use in emails, printed materials etc. More information about obtaining the certificate can be found on ECCMA's website at http://www.eccma.org.
# # #