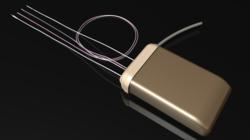 We are excited to offer our customers the first fully-digital telemetry platform for use in nonclinical physiologic studies," states R. Dustan Sarazan DVM, Ph.D., Vice President, Strategic Planning and Chief Scientific Officer at DSI
St. Paul, Minnesota (PRWEB) September 15, 2011
Data Sciences International (DSI) proudly introduces its most revolutionary physiologic monitoring platform in the company's 27 year history. DSI TruSense® implantable telemetry was designed to integrate with DSI TruData® Software, creating the first fully-digital telemetry system for the precise collection and analysis of large animal physiologic data.
TruSense Telemetry uses the latest in wireless communications to allow up to 16 animals to share a monitoring space. A further advance is the bi-directional communication between the TruSense implants and TruData software. This allows the user to send commands via TruData to the implants to start and stop sampling or to change configurations.
TruData Software is an intuitive, powerful tool for the collection, synchronization, analysis and reporting of physiologic data from not only TruSense telemetry, but also many other physiologic sources. Many of the software's powerful analysis algorithms were initially developed for DSI's Ponemah software, assuring researchers of continued proven performance.
When combined, DSI TruSense and DSI TruData open doors to the next generation of physiologic research opportunities.
For more information visit http://www.datasci.com or call 1-800-262-9687.
About DSI
Data Sciences International (DSI) offers complete systems for monitoring and collecting data including advanced telemetry implants and receivers along with data acquisition and analysis software. These systems leverage the latest analog or digital technology to turn accurate data into useful information quickly and easily—representing a major advancement in data collection for pharmacological and toxicological studies. Large or small animals can be monitored with minimal stress, 24 hours a day for months at a time. The result is higher-quality data with greater predictive value, allowing accurate and reliable measurement of the true effects of clinical intervention.
Visit http://www.datasci.com for more about the company.
###