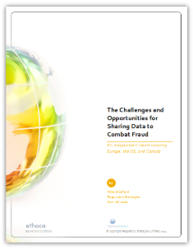 Merchants should fully embrace data sharing to prevent criminal activity," says Bradford. "The fiercely competitive financial services market has embraced data sharing -- in some countries for decades.
Austin, TX and Toronto, ON (PRWEB) April 27, 2011
Ethoca, the leader in data sharing for ecommerce fraud prevention, and Mike Bradford, a noted expert in international regulatory and consumer affairs, released a comprehensive guide titled "The Challenges and Opportunities of Sharing Data to Prevent Fraud."
The guide details precedents and best-practices for sharing ecommerce data as part of anti-fraud efforts. In the guide, Bradford, the Director of Consultancy Regulatory Strategies, lays out examples of other consumer industries sharing data to reduce fraud and paints a clear picture of global regulatory standards for data sharing practices. Those interested can request the guide at ethoca.com/datasharing.
Cross-border data sharing infrastructures provide merchants with access to powerful tools that can quickly spot fraudsters not only across national lines but across unrelated industries that rarely share data for other purposes.
Time for ecommerce to catch up to other industries on data sharing
"Merchants should fully embrace data sharing to prevent criminal activity," says Bradford. "The fiercely competitive financial services market has embraced data sharing -- in some countries for decades -- on the basis that risk avoidance and fraud prevention should not be competitive issues."
Over 100 of the world's top online merchants already safely and legally share transaction data to stop fraud, leveraging Ethoca's Issuer Confirmed Fraud Alerts (Fraud Alerts) offering. Fraud Alerts is a PCI Certified service that provides both fraud alerts and a secure sharing architecture to enable multi-party collaborative fraud prevention activities.
"There is a strong precedent for data sharing in the majority of countries by other transaction-rich financial industries, such as banking," says Julie Fergerson, VP of Emerging Technologies at Ethoca. "Now it is time for ecommerce to catch up and for merchants to work together to attack and reduce fraud."
Strong precedent in EU, US, Canada
Data sharing to reduce fraud is a well-established practice across the United States, Canada and the European Union. The rules for operating sharing organizations, or "bureaus", are defined on a country-by-country basis and the practice of data sharing is considered essential in anti-fraud efforts. It is possible, as well, to operate one or more bureaus that function as global clearinghouses and alert agencies for numerous merchant participants as long as these bureaus follow clear practices that comply with all the data sharing legislation of all the member countries. The guide outlines several examples of data sharing for fraud prevention.
How ecommerce data sharing works
Here is how it works:

A member joins an anti-fraud organization and agrees to terms of service that include confidentiality and reciprocity. Each member of the organization contributes confirmed fraud incidents to the anti-fraud organization, or bureau.
Intelligent matching systems inside the bureau apply algorithms to spot evidence of ongoing fraud.
Members receive fraud alerts, via email, comprised of a daily list of confirmed fraud incidents. Members may also receive real-time fraud activity alerts. The members of the bureau are anonymized so no one can connect a particular fraud incident to a particular member.
Such sharing is increasingly important in an era of pervasive online payments fraud and international collaboration among fraudsters to take advantage of merchants.
A highest common denominator approach
In the guide, Bradford advocates a set of best practices for sharing of ecommerce transaction data to best ensure full compliance with local and national regulations and policies for personal privacy and consumer protection.
Some of those key practices include:
Choosing a reputable fraud bureau partner
Meeting or exceeding consent requirements
Guaranteeing compliant data sharing
An appropriate policy for manual versus automated transaction approval decision-making, and
Putting in place the correct protocols for cross-border data sharing
Ethoca's Fraud Alerts, FraudStop™, and other services meet or exceed all of the compliance requirements. Both services are free for now.
"Fraudsters figure out how to circumvent conventional fraud prevention tools as they reach mass adoption," writes Ethoca Chief Governance Officer Darryl Green in the guide's preface, "but an approach built on data sharing performs better over time, due to a network effect. This network effect is a powerful anti-fraud weapon for both merchants and consumers – and, as Mike discusses here, it has been at work for years in other industries. Ethoca just brought it to ecommerce."
About Ethoca
Ethoca's mission is to eliminate ecommerce fraud by helping organizations in the payment chain check against each other's histories. Ethoca provides fraud detection services to card-not-present merchants (those receiving orders by website, fax, catalog, or telephone). It partners with payment processors, fraud prevention vendors, identity solution providers, card acquirers, card issuers, resellers and industry organizations. Today over 150 top brands are using an Ethoca service, including 17 of the top 20 ecommerce retailers. Get free product sheets, guides, video, articles, and other payment fraud prevention resources at ethoca.com/resources. Follow Ethoca at @ethocanews.
About Regulatory Strategies
Regulatory Strategies was founded in 2009 on a core "can do" philosophy, specifically to provide UK and international clients with highly practical and commercially focused consultancy around regulatory and consumer affairs, compliance and data protection to balance and minimise risk while at the same time driving bottom-line competitive advantage and market differential. Learn more at regulatorystrategies.co.uk/index.html.
###