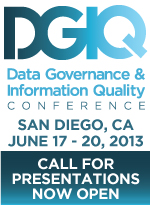 Los Angeles, CA (PRWEB) December 19, 2012
DebTech International LLC and DATAVERSITY™ have issued a call for presentation submissions from subject matter experts and industry speakers who would like to participate in the conference program for the summer Data Governance & Information Quality Conference. Designed to address the needs of business and IT executives responsible for managing corporate risk and accountability through effective data information management, DGIQ 2013 will take place June 17-20, 2013 at the Catamaran Resort Hotel and Spa in San Diego, CA.
Submissions are due by January 11, 2013 and should be made by using the online form that can be found at: http://www.debtechint.com/dgiq2013/callforpresentations2.html
All content for submissions must be relevant to data governance and data quality. Session submissions will consist of 50-minute conference sessions, 50-minute special interest groups, half-day tutorials and workshops, full day tutorials, 50-minute panel sessions, and 5-minute lightning sessions.
The conference curriculum is suitable both for those who are starting out with data governance, as well as those who already have programs in place. Novices will learn how to plan for Data Governance, addressing both the business and IT sides of the equation. The agenda includes foundational "how to" sessions, breakout discussion groups and case studies to meet the diverse needs of the audience. Experienced practitioners will learn from more advanced case studies and in-depth classes and can expect to return to their organizations armed with specific governance improvements.
For preliminary information on the conference please visit: http://www.debtechint.com/dgiq2013/
To submit please visit: http://www.debtechint.com/dgiq2013
For more information please contact: info(at)debtechint(dot)com
About DebTech
DebTech International LLC is a training and development company specializing in corporate on-site and public IT and data management education. The company specializes in information management including training, and conference development. For more information please visit http://www.debtechint.com, or email info(at)debtechint(dot)com, or call (973) 632-0138.
About DATAVERSITY:
DATAVERSITY™ provides resources for information technology (IT) professionals, executives and business managers to learn about the uses and management of data. Our worldwide community of practitioners, advisers and customers participates in, and benefits from, DATAVERSITY's educational conferences, discussions, articles, blogs, webinars, certification, news feeds and more. Members enjoy access to a deep knowledge base of presentations, research and training materials, plus discounts off many educational resources including webinars and conferences. For more information please visit: http://www.Dataversity.net or email info(at)dataversity(dot)net.