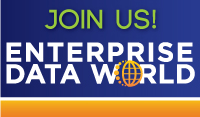 Atlanta, GA (PRWEB) April 30, 2012
Big Data is a big deal for most organizations in the world today no matter their size; large or small the challenges of Big Data in terms of collection, storing, analysis and reporting of Big Data are no longer a future possibility, but a present imperative. Everyone from CEOs to risk managers, CIOs to data analysts, marketing VPs to database engineers need to have a better understanding of Big Data to help their businesses gain a competitive advantage in the marketplace.
The Keynote panel is made up of six of the most prominent and knowledgeable experts in the Data Management industry:

Robin Bloor - Principal Analyst at The Bloor Group
Paul Pedersen - Deputy CTO at 10gen
John Haddad - Director of Enterprise Data Integration at Informatica
Neil Radan - VP & Principal Analyst at Constellation Research
April Reeve - Advisory Consultant at EMC Consulting
Anjul Bhambhri - Vice President of Big Data Products at IBM
The panel will cover a host of discussion points including (but not limited to):

What is Big Data and how do we agree on its definition?
How big will Big Data get?
What does the CEO think about it?
What can you do to future-proof your career in a Big Data era?
What are the key new technologies to get educated about?
Will Little Data technologies become obsolete?
Is Big Data governable and how can it be governed?
More information on the Keynote panel can be found here: http://www.dataversity.net/may-2-webinar-live-broadcast-of-edw-keynote-the-big-panel-on-big-data/
Enterprise Data World is the business world's most comprehensive educational event about data and information management. Over the course of five days, EDW presents a diverse schedule of programming that addresses every level of proficiency, including keynotes, workshops, tutorials, case studies, and discussions. The conference includes over 200 hours of cutting-edge content in a vendor-neutral environment, with specialized tracks that allow you to focus on the data management topics most pertinent to your needs, including all-new tracks on Unstructured Data and Data-driven Business.
The event will be held at the Omni Hotel at CNN Center in Atlanta, Georgia April 29 to May 3, 2012.
EDW 2012 platinum and gold sponsors include:

Adaptive
ERwin
Cambridge Semantics
Data Advantage Group, Inc.
DataFlux
Denodo
Global IDs
Informatica Corporation
Liaison Technologies
Meta Integration
Revelytix
Sybase
To see the full program schedule please visit: http://edw2012.dataversity.net/agenda.cfm?confid=65&scheduleDay=PRINT
Follow the conference on Twitter using: #EDW12
About DATAVERSITY™:
Dataversity provides a centralized location for training, online webinars, certification, news and more for information technology (IT) professionals, executives and business managers worldwide. Members enjoy access to a deeper archive, leaders within the industry, knowledge base and discounts off many educational resources including webinars and data management conferences. For more information please visit: http://www.dataversity.net/, or email: info(at)dataversity(dot)net.
About DAMA International:
DAMA International is a non-profit, vendor-independent, global association of technical and business professionals dedicated to advancing the concepts and practices of information and data management. For more information go to http://www.DAMA.org