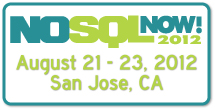 The significant increase in attendance by enterprise customers was the most noticeable trend this year.
Los Angeles, CA (PRWEB) August 29, 2012
NoSQL Now!, an educational conference that explains the diversity of NoSQL technologies, took place August 21 – 23, 2012 at the San Jose Hilton. Now in its second year, NoSQL Now! was highly anticipated by attendees, sponsors, and exhibitors alike.
NoSQL Now! hosted 80 educational presentations, many of which explained how NoSQL technologies address various business needs, and helped attendees match the right NoSQL solutions with the right business challenge. Other presentations explained how particular NoSQL solutions and products were designed and how the technology works.
"The significant increase in attendance by enterprise customers was the most noticeable trend this year" said Tony Shaw, founder of DATAVERSITY, which organized the event. "Just a year ago the audience was predominately developers from Silicon Valley, whereas this year we had a major increase in attendance from financial institutions, insurance companies, media, energy and manufacturing. The job functions included information architecture, database administration and strategic technology planning."
Most of the major NoSQL vendors displayed their products and services during the exhibits, including the well known players such as 10Gen (MongoDB), Couchbase and Datastax (Cassandra). Lots of the newer themes represented on the show floor as well this year, including:
Graph Databases – companies were Neo Technology (Neo4j), Objectivity (InfiniteGraph), YarcData (a division of Cray) and Franz (AllegroGraph). NeoTechnology's CEO, Emil Elfrem also gave a dynamic keynote session, Create Powerful New Applications with Graphs, where he highlighted the new analytical capabilities that graph technologies can provide.
Cloud-based NoSQL services, such as Red Hat's OpenShift Platform-as-a-Service and Cloudant's Data-as-a-Service, and Amazon's DynamoDB, the Database-as-a-Service. Swami Sivasubramanian, the Architect of DynamoDB keynoted with, The Journey to Amazon DynamoDB: From Scaling by Architecture to Scaling by Commandment,
New databases designed for Big Data applications, leveraging In-memory and NewSQL technologies such as VoltDB, StarCounter and GigaSpaces, and highly-scaleable object databases including Versant and Objectivity (Objectivity/DB).
NoSQL Now! 2013 will take place on August 20-22 at the San Jose Convention Center. To become a speaker or sponsor please contact Tony Shaw at tony@dataversity.net.
About NoSQL Now!:
NoSQL Now! is an educational conference and exhibit focused on the emerging field of NoSQL technologies. NoSQL (Not Only SQL) refers to the new breed of databases that are not based on the traditional relational database model, including document stores, key value stores, columnar databases, in-memory databases, and graph databases. The NoSQL Now! Conference is designed to educate CTOs, developers, data managers and architects on how these new technologies work, the applications they are best suited for, and how to deploy them. http://www.NoSQLNow.com.
About DATAVERSITY:
DATAVERSITY™ provides resources for information technology (IT) professionals, executives and business managers to learn about the uses and management of data. Our worldwide community of practitioners, advisers and customers participates in, and benefits from, DATAVERSITY's educational conferences, discussions, articles, blogs, webinars, certification, news feeds and more. Members enjoy access to a deep knowledge base of presentations, research and training materials, plus discounts off many educational resources including webinars and conferences. For more information please visit: http://www.Dataversity.net or email info(at)dataversity(dot)com.