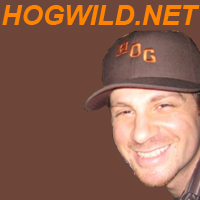 S In Milwaukee: "It'd be pretty sweet to both be crazy hyped up and anxious watching a playoff game and then at half-time sneak into the bedroom."
West Palm Beach, FL (PRWEB) February 02, 2012
Comedian and Professional Dating Coach HogWild conducted a survey of male sports fans asking,
"All other things being equal, Would you rather be in a relationship with someone who is drop-dead gorgeous but is uninterested in your team or someone who is pretty and is a huge fan of your team?"
The results were:
61% of guys chose the drop-dead gorgeous woman. It is not surprising, that all other things being equal -- same intelligence, sweetness, etc. -- they chose the hotter girl, but consider this...
39%, nearly 4 out of 10, said "No thanks" to this gorgeous girl because they thought it would be awesome to have a girl who could share their sports interest.
Survey responses include:
E in Oregon: "I choose the pretty girl because having another huge fan around would be great. Plus, you won't get in trouble for watching the game."
S In Milwaukee: "It'd be pretty sweet to be crazy hyped up and anxious watching a playoff game and then at half-time sneak into the bedroom."
M in Belgium: "I need my alone time. She can like all the volleyball she wants, she's staying away from my basketball and football."
H in Boston: "I've never met a girl who could talk sports at any meaningful level but I have met lots of girls who act like they are big into sports, but aren't very knowledgeable, and that is a huge turn off."
J in Pittsburgh: "I say the pretty girl who likes my team because it's fun to go to games with a girl who knows her stuff."
J in Michigan: "If the sports girl is pretty, I don't need to marry a model and obviously I'll get along with her better."
J in Winnipeg: "I don't want to talk to my girl about sports. Especially if she's a hardcore fan, I don't wanna have to analyze players and hear her scream during games."
B in California: "I prefer the pretty one who likes sports. If she has that in common with me, no chance I pass that up. I'm not that shallow to go for a girl who isn't interested in one of the few things I truly care about in this world."
T in New York: "When women try to talk football and trash talk with the boys they sound silly. A lot of times they're just trying to fit in and you want to tell them to get a clue."
S in New York: "I think it's sexy when a girl knows football and can actually talk about it."
H in Connecticut: "I would prefer the pretty girl who is way into my teams. Besides, as you get older, the body goes to some extent."
HogWild agrees stating, "In a REAL relationship it has be about more than outer beauty. That's why I say I don't care how you look, as long as you can COOK! Because looks fade, but meatloaf is forever."
Dating Coach HogWild reached the following conclusions:
1 - Don't fake an interest in the guy's favorite team.
2 - As with anything else, don't be obnoxious.
3 - A sports guy needs his space and alone time just like most humans.
4 - If you are a pretty girl who happens to really like a certain team, definitely look to meet desirable guys who also like your team because 4 out of 10 of them see your love of their team as something that makes you more attractive to them.
On http://www.hogwild.net, HogWild gives women 3 easy ways to meet men who cheer for their team along with fun, natural conversation topics get things started.
ABOUT HOGWILD.NET
HOGWILD.NET viewers are laughing their way to love. Over 500 dating advice videos help those looking for answers to their dating and relationship problems.
Popular topics include: How to talk to women, How to talk to men, How to get a woman to like you, Relationship Counseling, and How to Find Love.
Visit http://www.hogwild.net for additional information or contact:
HogWild (845) 458-9925 or hogwild(at)hogwild(dot)net
# # #