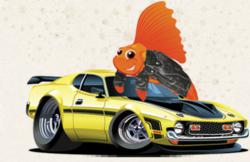 Los Angeles, CA (PRWEB) October 04, 2012
There is no question that dating is tough. For men who want to date up or possibly change the type of female they date, bringing some game to the table can be difficult. RoadFish.com has posted an article the helps men know how to date a Heather Locklear type of female. This type of female can be any female who the male feels they would be interested in, but may not have interest in them. To help men get past the initial problem of what to do on a date and how to get the female to be interested and also holding her interest on the date, the site has published a six-step plan and tip cheat-sheet on how to date a woman who may be different from whom the male usually goes for. With the six steps as outlined on RoadFish.com, men have an easy-to-follow guide on tips for dating women. By using the basic ideas presented in the article, men can be confident in their swag and what they bring to the table on a date with a high-end female.
The article offers a fun and light commentary on pop culture, but the advice offered are sound and solid tips for any date. The first tip the article offers is to, "Take her somewhere they don't serve booze," says the Senior Staff Writer of RoadFish. While RoadFish.com is poking easy fun at the booze problem in Hollywood, this tip can actually save men embarrassment and help the female feel more at ease with the man she is in the date with.
RoadFish.com doesn't skimp on their advice. Even with the site's typically comical and sarcastic style, they use each post opportunity to appeal to men and the things that matter in their lives. The site covers topics on finance such as how to get a free credit score report to first date tips for men.
About RoadFish.com
RoadFish.com lifestyle and finance magazine is an online men's magazine that commonly features articles on travel, lifestyle, and dating advice for men. RoadFish.com readers tend to be guys in their 30's and 40's, most of who have already set and achieved high personal goals for themselves, and are heading steadily towards a new goal. RoadFish.com men's lifestyle and finance magazine features stories on men's luxury items, vacation ideas, beautiful women, and education on credit cards.