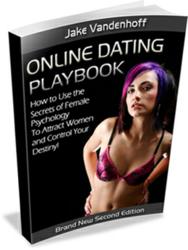 The guys who are out there really looking to find answers are usually highly intelligent, driven guys, who realize that success with online dating requires developing a skill set that may not come naturally to them
Pembroke, MA (PRWEB) August 22, 2012
"Most men have a very limited understanding of how to write an effective dating profile," reports dating coach Jake Vandenhoff. "So I put together a list of online dating profile examples for men to show guys what they should and should not be writing in their dating profiles if they want to attract women."
Although 97% of men quit online dating within a few weeks due to a lack of results, Vandenhoff claims that online dating is still a viable way to meet single women. "The reason so many guys fail online is because they don't understand how to communicate with women in an attractive way... This business of how to attract women online is a complete mystery to most guys."
In his report Vandenhoff asserts that a man's dating profile should, "create an image for your female audience of who you are and what your life is like." He adds that "As a general rule it's good to talk up your life rather than talking up yourself." The idea being that a man can use his dating profile to subtly point to his attractive personality traits and personal characteristics rather than bragging about them outright.
"I've critiqued hundreds of guy's profiles at this point, and I have discovered that most guys all make the same basic profile mistakes" Vandenhoff says.
"Either they are afraid to speak highly of themselves and come across as meek and passive, or they come across as too cocky and arrogant. The key is finding the sweet spot in the middle where you toot your own horn, but you do it in a subtle and charming way."
Skeptics may question whether Vandenhoff can actually teach men how to become more attractive to women online, or whether taking such a calculated approach to dating is disingenuous.
Vandenhoff offers this reassurance.
"Men who seek dating advice typically do so with the best of intentions. The guys who are out there really looking to find answers are usually highly intelligent, driven guys, who realize that success with online dating requires developing a skill set that may not come naturally to them" says Vandenhoff.
"These guys realize that the women they want to date are online, and by golly they are going to find a way to attract them and date them!"
Evidently online dating continues to gain popularity. A 2010 study conducted by leading internet dating website Match found that online dating is now the third most popular way for singles to meet new people to date, and the percentage of people worldwide looking for love online has risen every year.
"When I first tried online dating I was pretty well baffled as to what I should write", says Vandenhoff. "Now I want to help guys like myself. Guys who have the best intentions, but need a little help writing a dating profile that will help them stand out and attract women."
Jake Vandenhoff is a men's dating and lifestyle coach based in Southern Massachusetts. Jake's teaching emphasize the importance of self-esteem and self-compassion as prerequisites for a truly fulfilling dating life. Through his blog http://www.jakevandenhoff.com/blog/ he has spread his message by sharing dating tips for men.
For those seeking a hand's free solution Vandenhoff offers a dating profile writing service here: http://www.jakevandenhoff.com/online-dating-profile-writing-service.html