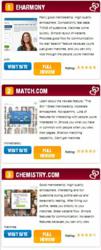 For those who really want to find out what a site is like before spending money on it.
Portland, Oregon (PRWEB) August 07, 2012
BestDatingWebsitesReviews.com (BDWR) is now providing the most comprehensive reviews available online for the top dating websites.
Their three top-rated sites are currently eHarmony, Match.com, and Chemistry.
eHarmony.com received 5 stars on the rating scale and is number one because of its membership and great communication features. Following closely is Match.com with 4.5 stars. They say Match.com is so highly rated because of its quality and price combination. They say it is a high quality, widely known site, and its monthly fee is far below that if its closest competitors. Next is Chemistry.com with 4 stars. They say Chemistry.com is the best choice for people looking for a very serious relationship because of their great matchmaking and compatibility testing.
Many providers for dating website reviews just copy and paste language provided by the site itself and never actually go into the site and discover its pros and cons based on any criteria.
At BDWR they have employees who have used all of the dating sites that they review, and have provided information for their potential members based on eight criteria: Price, What's Included In Price, Type Of Site, Features, Ease Of Use, Aesthetic Appeal, and Matching/Compatibility Testing. After going through all of those criteria, a score from 0-5 is given to rank the sites against each other.
As a comparison, one of the most popular sites for dating site reviews has a review for eHarmony that is 56 words long. BDWR's review for eHarmony is 947 words long. For those seeking quicker answers, there are summaries of the review located at the top of each full review. But for those who really want to find out what a site is like inside and out before spending money on it, the long reviews come in very handy.
BDWR provides more than just reviews of dating websites. There is a section of BDWR dedicated to relationship advice, as well as a forum for discussing many love-related topics. Some of the most popular pieces of relationship advice include blogs on cheating in relationships, the importance of honesty in relationships, and how to properly break up with someone. The writer of these blogs gives honest, straightforward advice on sensitive topics gained from lots of unfortunate experiences in the dating world.