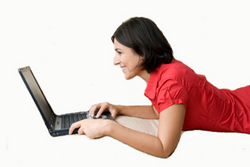 Dating online is not a cheap undertaking these days with many dating sites charging for more & more facilities
New York, NY (PRWEB) August 27, 2009
The founder of http://www.netdatingsuccess.com, Rob Murphy, has applied his background as a business analyst to discover the reasons why many men fail to get the most out of their online dating membership. Rob approached the problem in a unique way by asking many of his female friends who were using the online world to meet men to contribute to his new eBook, 'The Essential Guide to Online Dating For Men'. The eBook offers simple step by step dating advice on what men need to consider when they start dating girls online and what common mistakes to avoid.
Rob's e-Book was launched quietly via http://www.netdatingsuccess.com in May 2009 and was given away for free to a sample of men so that feedback on the eBook's content could be gathered. The only criterion that Rob asked for before the guide was given away was that the man was either currently online dating or was about to start doing so. "Dating online is not a cheap undertaking these days with many dating sites charging for more & more facilities". Rob added, " I needed to ensure that my guide would quickly help men optimise their chances of success - I was proved right". The results of the trial made interesting reading & advocated Rob's approach to this genre of dating.
All of those men who took up the offer rated the guide extremely highly and were very impressed with the eBooks content. Everyone in the sample remarked that the advice in the book from Rob's female friends was priceless. Their opinions on the quality & content of profiles that the majority of men put up on online dating sites to attract a prospective date generated the most interest & feedback. Every man in the trial said they would revamp their current profile after reading the guide. Subsequent feedback has indicated that they are now seeing more interest generated in their profile as a result.
As well as helping men attract greater interest from women by improving the quality of their profiles, the guide offers tried & trusted dating advice to ensure that interest is maintained right through initial e-mail contact to the first date. Many men blow their chances of success by not applying thought or common sense to their approach and allow their inflated egos to stop the dating process dead in its tracks. Rob's guide highlights 'date breaker' behaviour at regular intervals throughout and backs up this advice with real examples provided from his and his girlfriend's online dating experiences.
Over 50 million people are now using the internet to date & find partners. Regardless of age or whether you are single, separated or just coming out of a divorce the number of sites available to help you get back to dating are mushrooming daily. "Before you dive in, it's only common sense that you prepare yourself properly to maximise your chances" says Rob. Too many men just assume that they can sign up to a dating site and make it work for them first time rather than first listen to some dating advice. Rob's guide will help definitely help men to start attracting and dating girls quickly for much less than a monthly dating site subscription.
###