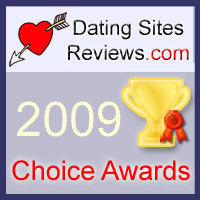 Toronto, Canada (PRWEB) September 1, 2009
DatingSitesReviews.com, a popular online reviews site for internet dating services, announces its third annual "Dating Sites Reviews Choice Awards". These awards honour the best dating site in each of the different categories with 11 Editor's Top Picks Awards, and the top honor the Single's Choice Award. In 2008, there was a 25% increase in visitor voting, and the closest match up ever between first and second place in the results. With the popularity of online dating ever increasing, the expectation this year is to see a further double digit growth in participation.
DatingSitesReviews.com received several requests to add free dating services to the Single's Choice Awards, and they listened. This year's poll for the award now asks 2 questions. The first question requires visitors to vote for the best paid dating site from a list of 10 of the most popular services. The second question asks participants to select from a list of the top 6 free dating sites to vote for. To cast your vote and to help decide this year's award winner, please visit the Single's Choice Award Poll at DatingSitesReviews.com.
There are 3 new categories this year for the Editor's Top Picks Awards, making a total of 11. There are 8 returning from last year, including the Top Pick Overall dating site, as well as the Top Pick Senior and Match System. New this year are the categories which showcase the top dating sites for Australia, the United Kingdom, and the best free online dating site. A number of criteria is used to determine the recipients of the Editor's Top Picks Awards, including popularity of the service in it's given dating niche, to the features offered and the functionality of the dating site.
The Dating Sites Reviews Choice Awards winners will be revealed, starting in the month of December. For more detailed information, to vote and see the current results, read the following article: 2009 Dating Sites Reviews Choice Awards
About DatingSitesReviews.com
Founded in 2003, DatingSitesReviews.com has become one of the leading online dating reviews sites on the internet. Not only does DatingSitesReviews.com offer their own reviews of all the popular dating services, they allow visitors to post their own ratings and reviews as well. A dating news blog, polls and busy message forums are also available for visitors to read and post their own questions and comments related to dating.
Contact Information:
Tom Homer, Editor
http://www.DatingSitesReviews.com
905-331-1479
By Email
###