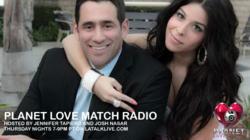 When you are in a place, a club or something like that, and it's hot and you are sweating, you are releasing pheromones right there.
Los Angeles, CA (PRWEB) February 29, 2012
Anyone who has ever had a one-night stand and had to do the proverbial "walk of shame" the next morning can rest a little easier. On a recent edition of the weekly relationship advice show Planet Love Match Radio, relationship experts Ryeal Simms and DeAnna Lorraine got to the bottom of what could be causing singles to let go of their inhibitions and hook up with someone they know they will never see again.
"There are chemicals that are released even when you just meet somebody," states Ryeal Simms. He further describes the role of these unconscious hormones that men and women release called pheromones.
"When you are in a place, a club or something like that, and it's hot and you are sweating, you are releasing pheromones right there. Women release copulins, and when men smell the copulins, they also release something called androstenone. This is one of the reasons why people have one-night stands."
As a board certified counselor, Simms has nearly 20 years of relationship research experience. Creator of the "Terzetto Theory®", Simms helps men and women build strong, healthy relationships with themselves before they make commitments to each other.
On the other hand, respected relationship coach DeAnna Lorraine believes that one-night stands may be something that some people just have to "get out of their system." "Most people have (had a one-night stand) so it's not something to be ashamed of," she adds.
She thinks that "no-strings-attached" incidents might simply be a step on an individual's path to understanding their own relationship needs and wants.
"One-night stands just don't appeal to me. I get more fulfillment from just making out, rather than having random sex," Lorraine declares.
Research done by the Durham University of England concludes that women have a harder time with casual sex then men. Women often feel worse after a reckless night of sex and the potential consequence of a one-night stand could be pregnancy, making a spontaneous episode a risker proposition for women.
The unconscious desire to advance the species may also be at work. Men and women are both biologically programmed to choose a mate that will produce offspring with the strongest chance of survival. One-night stands may be an intuitive desire to exchange genes with someone you may not have a chance of garnering a long term relationship with.
The Planet Love Match Radio Show airs every Thursday night from 7pm to 9pm on LATalkLive.com. Hosted by Jennifer Tapiero and Josh Nasar, the show encompasses all the aspects of relationships, love, sex, dating, and finding love online.
About Planet Love Match®
PlanetLoveMatch.com™ is a social online dating site that provides singles with an immersive and interactive way to find and meet people online, no matter where they are. Using a proprietary matchmaking algorithm and over 50 ways to communicate, Planet Love Match offers a safe and private way to create meaningful connections with like-minded people. Planet Love Match is powered by KABUUM®, a communication platform developed by Global Marketing Resources, Inc. Founded in 1995, GMRI is headquartered in Dunedin, Florida.
###