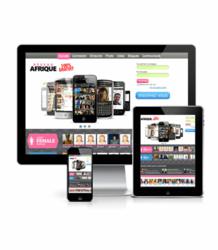 A dating and social network website for the international African community and its followers
New-York, NY (PRWEB) April 23, 2013
GroupeMedia is proud to announce the public launch of ReseauAfrique.com, a new website focused on the African dating community community. It's a brand new, devoted, international dating community focusing both on the African population and combining a standard dating site experience with the benefits of a community social network – ReseauAfrique.com plans to lead the industry. A free web site for men and women from throughout the African population to meet, network, and fall in love, ReseauAfrique.com will provide state-of-the-art service and unparalleled focus for all of its members.
ReseauAfrique.com offers more than the standard dating website experience. It has fully integrated social media aspects, as well. One major example is their innovative live chat function. Available as a mobile application as well as on the website proper, it features integrated geolocation of members. It's available for both the iPhone and Android platforms, and can be downloaded from the website, and it's only one example of the tools ReseauAfrique provides to help people from all walks of life develop new relationships. By enabling the African dating community to connect in this fashion, ResauAfrique.com opens new avenues to people in all their quests for new romantic endeavors.
What will make ReseauAfrique stand out above its competitors, then, is the fact that it takes all of these dating and social networking features and designs them specifically with an African perspective in mind. The vast majority of dating websites out there are very general – new users get a wide cross-spectrum of the population signing up. ReseauAfrique, on the other hand, is specifically designed to meet the needs and desires of the African community all around the world. They can tailor the experience directly to their audience, with webcam meetings, online chats, and community social networks all designed to enhance the experience of the African dating community. ReseauAfrique is confident it will establish itself as a leader in the industry.
ReseauAfrique is also 100% free – there is no risk or commitment required to sign up. The international community they provide can be accessed with no initial fee or complex procedures, and the specialized community means there isn't the need to comb through dozens of unrelated profiles, or sift through a critical mass of profiles that simply do not relate. The combination of classic dating side and modern social network gives ReseauAfrique a unique and useful power in the African dating field.
ReseauAfrique is bilingual, as well, as they cater to both the French and English speaking communities. There are few other dating sites, African focused or not, that gives such flexibility. ReseauAfrique gives people the rare opportunity to meet with exciting, vibrant people from all around the world that still share their common heritage, all with a convenient user interface and easy to understand apps. Stretching from Canada to Cote d'Ivorie, Senegal to France, it truly is an international community. ReseauAfrique.com is proud to offer world-class service to all of its users, and strives to be the most useful, powerful, and convenient dating site on the internet for the international African community.
New users can get in on the ground floor of what is sure to become an industry leader in the field of African dating website. ReseauAfrique is now live, and accepting signups to become members of their unique, targeted dating community. They're proud to offer a unique dating experience, and hope all of their new users will enjoy all of their features as they connect with people across the globe.