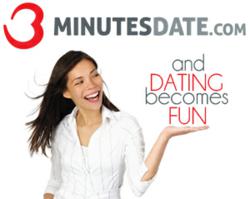 A friend, a date or endless love can start in just 3 minutes
Chicago, IL (PRWEB) June 23, 2011
Formally speaking and on very short definition, speed dating is a formalized matchmaking process or dating system whose purpose is to encourage people to meet a large number of new people. Its origins are credited to Rabbi Yaacov Deyo of Aish HaTorah, originally as a way to help Jewish singles meet and marry.
The first dating event in the form of speed dating, took place at Pete's Café in Beverly Hills in late 1998. Soon afterward, several commercial services began offering secular round-robin dating events across the United States. By 2000, speed dating had really taken off, perhaps boosted by its portrayal in shows such as Sex and the City as something that glamorous people did. The very basic yet very true pros? Speed dating saves time, as most people quickly decide if they are romantically compatible, and first impressions are often permanent.
But in the era of speed and time efficiency, there's no doubt lots of us couldn't enjoy a real life speed date event – they are not organized in all towns or everyday.
Whether we call it speed dating, speed-dating, round robin dating, singles parties, or singles events, we all know what this is all about simply because we love to date. If we don't love it yet we will, definitely, once we get to know it.
As simple as that, because time is precious and it is our right to choose with whom we wish to spend it. Only friends that the 3minutesdate.com member decides to add to his or her profile, will have the chance to share photos, to chat with or to interact at any time.
As a premiere, the system is available online through the new 3minutesdate.com dating platform. The member can invite to chat with the him or her whose profile may be found interesting, and enter the chat room for 3 minutes starting the speed date and fully reveal if they are compatible as friends, date or not at all. The members can challenge each other in order to reveal their personality and after 3 minutes they will decide whether they want to date that person or invite him or her to personal friends list and talk whenever, or give another dating chance in the near future.
3minutesdate.com is a trend setter website in the online dating field, based on a simple and fun idea.
Every new member could meet singles all around the world and join for free the amazing dating experience on: http://www.3minutesdate.com
###