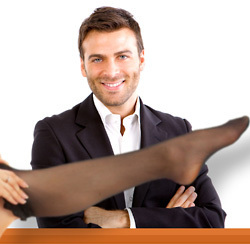 17% of the UK women over 40 admitted they would have an affair with a younger man if they knew their partner wouldn't find out
(PRWEB) January 28, 2010
Four out of ten women over the age of 40 are in the market for a Toy Boy according to a poll carried out by a UK cougar dating site.
The poll of 2,000 women carried out by Yes Mrs Robinson also revealed that a quarter of the women over 40 already have a younger lover.
A cheeky 17 per cent of the UK women surveyed admitted they would have an affair with a younger man if they knew their partner wouldn't find out – while another 14 per cent confessed they often fantasise about having a man half their age.
Older women younger men relationships have long been a taboo subject but with celebrities like Madonna leading the way it's now something to shout about.
Young men often feel pressure to commit to a serious relationship with girls their own age, whereas the older, more experienced older woman is often happy to date younger men on a more casual basis.
Biologically it also works well, women are at their sexual peak in their late thirties early forties so it makes perfect sense for them to hook up with younger guys.
It seems women everywhere are now emulating celebrity females who think there's nothing wrong with cougar dating – and over half of the women surveyed believed that having a man a few years younger than them would help them to feel young!
A spokesperson for Yes Mrs Robinson, said:
"Today's 40-something woman looks and feels younger than ever and today's modern young men appreciate the confidence and experience an older partner can offer. "
The survey asked women to vote for their ideal Toy Boy and the top five chosen were:
1. Celebrity chef Gino D'Acampo
2. Star Wars actor Ewan McGregor
3. Singer Enrique Iglesias
4. Chart-topper Robbie Williams
5. Singer Peter Andre
''Gino D'Acampo was a clear winner in our poll – he has that Italian charm, can make women laugh, and what's more, he's a great cook!
''But it's great to see a mixture of homegrown talent, Hollywood superstars and sportsmen in the top 30 list. It goes to show it's not always about looks. Personality and the ability to have fun count for a lot."
###