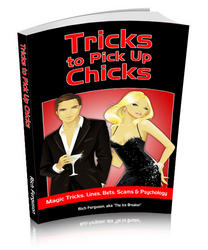 "The right man is the one that seizes the moment." - Johann Wolfgang von Goethe, 17th century philosopher of Romanticism
San Luis Obispo, CA (PRWEB) April 21, 2010
Just like magic, the newest book to help guys hit on woman has appeared. In a modern, direct and entertaining twist, Tricks To Pick Up Chicks makes approaching woman fun for everyone. The chapters themselves reveal it all. Chapter one is titled "Quickies." These are lines, quick tricks and ice-breakers to instantly get someone's attention. "One Night Stands" is the next chapter containing self working but effective magic tricks and bar bets. Chapter three is appropriately titled "Threesomes." This chapter focuses on tricks and set-ups secretly using your wingman. Chapter four breaks down body language, expressions and gestures specifically to women. Chapter five spells out all the tips a guy could ever need to staying true to himself and the game of dating. The content is fresh and inviting and the layout is fun. The chapter titles and names of tricks within the book are cleverly playing on innuendos but the book itself is quite clean and appropriate for all.
Being clever, using magic principles and revealing body language makes this quite a powerful guide for the new generation that requires instant gratification. Even the breakdown of pick-up lines is hilarious. For instance, there are lines "if she blows you off" and lines "if she blows someone else off." Effective and self working magic tricks are categorized by money, tricks with everyday objects, mind reading, card tricks and bar bets.
This book is straight forward, effective and healthy for men and women. Many guides to dating focus heavily on approaches that are underhanded and complex. Tricks To Pick Up Chicks shows men how to have a good time wherever they go and how to make woman notice and desire attention while maintaining tact.
There are 186 pages with over a hundred magic tricks and dozens of scams plus detailed explanations and pictures to decipher body language and expressions.
ISBN-10#: 1450560180, EAN-13#: 9781450560184
Forward by Rich Ferguson
Introduction by Chuck "The Iceman" Liddell
A video breakdown of the contents can be viewed at http://www.youtube.com/watch?v=NpnVSNKOWjQ
Tricks To Pick Up Chicks is available for individual or wholesale purchase from Createspace/Amazon. Individuals can purchase copies for $19.95 directly at https://www.createspace.com/3429241. It's just the cost of a couple drinks!
Rich Ferguson is available for interview by using the contact page at http://www.TheIceBreaker.com.
Rich Ferguson, aka "The Ice Breaker" is an award winning magician, producer and creative consultant. He has performed around the world displaying his ability to read people and entertain at parties, corporate events and television. Rich Ferguson is also the host of numerous top selling instructional DVDs on psychology, magic and poker.
# # #