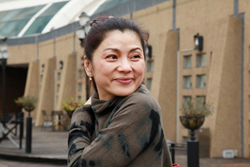 Los Angeles CA (PRWEB) April 09, 2015
At a seminar held in Los Angeles recently, bestselling author and speaker Hellen Chen revealed to attendees why dating can be a big waste of time and if singles are looking to get married, they should spend a lot less time dating, and to really spend the most effort to date "after marriage."
According to Chen, modern dating has evolved into an endless game that involves spending a significant amount of time and money courting without the desired result of marriage.
"Men find themselves spending a lot of money trying to impress ladies with gifts, dinners and accompanying them for shopping. However, without a marriage in place, such dating often ends up in separation. All the effort you put in goes down the drain," said Chen.
Chen describes this as "taking care of another's wife."
"When you date with no goal of marriage, you are simply taking care of someone else's future spouse," Chen added.
According to Chen, there are only two results dating can lead to: break-up or marriage. She estimates that about 90 percent of dating end up in break-ups.
The relationship guru also states how ladies are guilty of making the same mistakes as their male counterparts.
Chen believes that a common misconception among singles today is the idea that dating longer gives you more time to really know the person you're with in preparation for marriage.
"There are couples who have dated for many years and yet still divorced after marriage, thus the longer dating time did not guarantee the success of their marriage," said Chen.
Chen also points out although people are dating longer today than they did in the 60s, the divorce rate did not decrease but has increased significantly.
Chen's marital advice has been showcased in more than 200 publications, and on TV and radio networks in 20 countries around the world.
She is also the bestselling author of 25 books on love, family and personal success. Her books "The Matchmaker of the Century" and "Hellen Chen's Love Seminar" which talk about the biggest dating mistakes singles made became the number one bestselling relationship books on Barnes and Noble.
"Most people spend the most effort and time to date before marriage, and to go in and out of relationships. I recommend to invest the time and effort to date with the serious goal of marriage and then pour all efforts to date your spouse after marriage and enjoy romance for the rest of your life," Chen smiled.
Chen will be teaching singles the exact method to 'find the right person' without endless dating at her next love seminar event on May 23 in Los Angeles.
For more information on the Love Seminar, please call 800-912-0510 or visit http://consultanthellenchen.com/hellen-chen-love-seminar-la/