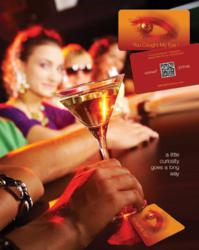 The 'Dating Accessory' allows singles a subtle and simple way to connect, even in the most inconvenient of circumstances.
PA (PRWEB) March 24, 2012
DatingAccessory.com is a new mobile friendly website that offers singles a fun and fast way to never miss another connection. By creating a dating card that simply states "You Caught My Eye" it is immediately clear the purpose of the card. The reverse of the card has a disclaimer that reads "if you are involved I apologize, please take this as a compliment." This keeps the process classy while requiring little courage on the part of the giver. The receiver of the card is able to use their Smartphone with the cards' QR code or the standard web address and enter a code that connects with the givers personal profile and photos. the site utilizes mobile technology, making the experience both fast and fun.
The "Dating Accessory" was created to solve many dating problems. This includes a common complaint of online dating in which the persons' physical description and photos are not accurate. The dating card is given in real life so that at least one person if not both have seen each other and noticed their body language, answering the question "What do they really look like?"
Another problem is that the majority of online dating websites are public and many people are uncomfortable being so easily recognized. This leads many to not post a photo, which limits their ability to be contacted. The Dating Accessory's profile pages are private, only the person that received a card from a member can view that persons' profile. Members do not need to worry about giving out personal information, since they can safely communicate with the giver within the site for free.
DatingAccessory.com offers fresh articles and advice that helps singles navigate through all their dating adventures. The benefits of using the "Dating Accessory" are many and belonging to the sites dating community allows members and guests to be aware of future "You Caught My Eye" events being held in cities across the country.
Kimberly Petruska is the founder of the "Dating Accessory LLC," which was created to solve the problems that she encountered when entering into the dating world again. "People didn't seem to connect or have the courage to do so. Everyone is in their own world and moving to fast to engage which is why it is so important to be prepared at a moments notice. Creating the dating card allows a subtle and simple way to connect, even in the most inconvenient of circumstances."