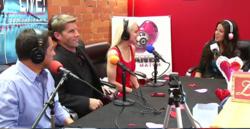 "Stop hating your life," Truitt says. "Love your life – even if it's ugly and messy, and you're out of a job – you're alive."
Los Angeles, CA (PRWEB) May 25, 2012
Understanding your value and thinking positively are some of the best ways to achieve great dating results according to author Donna Spangler and life coach Steve Truitt. On a recent episode of the weekly dating advice show Planet Love Match Radio, both used their unique relationship insights to help listeners reverse their negative thinking and understand the importance of self-esteem in relationships.
Being aware and positive is a life-lesson with which expert Steve Truitt sees many of his clients struggling. "Stop hating your life," Truitt says. "Love your life – even if it's ugly and messy, and you're out of a job – you're alive."
"If you live with a have, do, be scenario; if I only had – fill in the blank. Then I could do… whatever, and then I'd be happy, or be in a relationship. That's flawed. The reason is, you are focusing on having something in order to be something," he states. "Same words, switch the order. If you be something – if you be love, if you be happy – you can do all the things that happy people do, and then you'll have what you want," Truitt adds.
He goes on to explain how singles have to "just decide to be it." Stating simply, "Go into a relationship and be loved, be listening, be open, and be accepting, be communicative – just be that," he asserts that "if you want someone to love you, be love."
Steve Truitt is a certified practitioner of Hypnotherapy, Neuro-linguisitc Programming, and Timeline Therapy™; he is also is an award winning author, addiction specialist, and life-coach. His new book "Stop Waiting for Permission!" received the 2010 Walsh Foundation Best Personal Growth Book of the Year and is about not taking "No" for an answer.
Author Donna Spangler explains that knowing your value allows daters the freedom and confidence to never settle for less than they need. "I deserve to get the best out of life, I deserve to have a man who feels a certain way about me, who loves and cherishes me, and who is going to treat me right," she states.
Model and author of "The Princess Formula: How to Get a Rich Man", Donna believes your prince charming might as well be rich. She prides herself on helping independent women find partners who treat them with love and respect. Donna has appeared in hundreds of magazines, studied psychology at UCLA, and created the internet web show "SCANDALS".
Spangler further elucidates that without high self-esteem, a person may not be able to see the importance of finding someone who wants the same things out of life. "You need to find a partner who sees the same things you do. Shares the same goals, family – if it's doing business together –whatever it is, it's important to get a like-minded individual," she says.
Agreeing with Spangler, Truitt adds that daters must be more realistic about relationships. "I think in general it really boils down to people not seeing the situation for what it is," Steve explained. "'You're gorgeous and I can fix the rest.' …or 'we totally connect, but I'm not that attracted to you. We'll figure that out.' It's always 'you're not perfect. I'll change it eventually.' People go into relationships saying, 'I'll give up something in order to get something.'"
Knowing your worth allows you to make a confident decision about accepting love that really fits into what you want out of life. Being able to say, "I choose you for everything that you are and everything that you're not - end of story," Truitt states. "That's a powerful choice."
Planet Love Match Radio airs every Thursday night from 7-9 p.m. PST on LATalkLive.com. Hosted by Jennifer Tapiero, the show encompasses all aspects of relationships, love, sex, dating, and finding love online. Listeners are encouraged to call in and ask questions during the show at (323)247-7443. Recent guests include: Cyber-dating expert Julie Spira, actor Justin Hires, author Sam Greenspan, intimacy coach Jenna Couture, actress Tanya Memme, love stylist Tristan Coopersmith and many more dating experts and celebrities. To watch highlights from the show, go to http://blog.planetlovematch.com/category/PLM-Radio.aspx
Planet Love Match Radio is sponsored by online dating website PlanetLoveMatch.com.
About Planet Love Match®
Planet Love Match is an online dating website that provides singles with an immersive and interactive way to find and meet people online, no matter where they are. With free email and chat and over 50 ways to communicate, Planet Love Match is making it safer and easier for singles of every age, nationality, ethnicity, orientation, and gender to find love online. Planet Love Match is powered by KABUUM®, a communication platform developed by Global Marketing Resources, Inc. Founded in 1995, GMRI is headquartered in Dunedin, Florida.