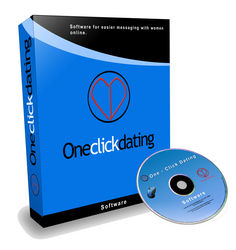 It was unbelievable. By using pattern recognition, the One-Click Dating software was able to pick up women and attract women automatically. All this without sitting in front of the computer, reading messages, typing the answers and sending those messages.
Slovenia, Europe (PRWEB) March 30, 2010
Mark Dupont, on his web site One Click Dating Method, announced that he built an intelligent software solution that automatically interacts with beautiful and lonely women on any dating or social networking web site, gets their telephone numbers so you can meet them on a date and possibly even get a girlfriend or start a new relationship.
As weird as it sounds, it seems that the era of conventional dating is really coming to an end. Just imagine flirting with somebody on the internet, meeting that person on coffee and hearing: "Oh that wasn't me. It was my fully automated robot with artificial intelligence." As strange as it seems, this approach has led Mark Dupont to meet hundreds of women online in less than 2 years without typing one single message.
"I've read many dating advice books and dating guides on the subject of how to get women, body language flirting, dating tips, flirting tips… So a few years ago I started implementing those techniques with women online. After hundreds of hours of flirting with women, I finally found a perfect approach for picking up women and attracting women on the internet and how to easily get a girlfriend," said Mark.
It wasn't long since Mark realized that meeting women online is a linear straight forward process: "At that time I didn't have automated software, I had to sit in front of the computer a few hours a day and pick up women with my own mind. Then, after analyzing hundreds of conversations with women online, I discovered that the process of seducing women online is more or less always the same," Mark continued, "and it's at that time that I realized that automated software could be used to seduce the women instead of me doing it."
When Mark discovered that seducing women could be done by an automated robot, Mark set himself the goal to build a computer program that could intelligently read the messages from women and automatically send the appropriate answers. After three years of extensive research and development, Mark has finally built his software and nicknamed it One - Click Dating or OCD in short.
"It was unbelievable. By using pattern recognition, the One-Click Dating software was able to pick up girls and attract girls automatically. When I first tested the software on plentyoffish.com and match.com, I got more than 40 telephone numbers in 30 days without doing anything. Then I tested the software on social networking sites like myspace and facebook and was able to approximate around 2 to 3 dates per week for a duration of 12 months. All this without sitting in front of the computer, reading messages, typing the answers and sending those messages - it was all done by One-Click Dating," Mark explained.
The invention of the OCD software and the successful method for picking up women on the internet motivated Mark and his team to launch OneClickDating Method. They offer love relationship advice on the subject of meeting women as well as the OCD software, including a comprehensive guide to dating and a dating advice book.
"During the last years I've met many women. Now I want to teach other men how to get the same results," said Mark. On his web site he sells a unique product named the OneClickDating Method which contains the following:
1. The One-Click Dating software
2. A 280 pages dating advice book
3. 15 hours of video tutorials
4. Support, updates, private forum, coaching and other goodies
In his dating manual Mark describes the whole process of how to get a girlfriend online - what messages he sends, flirting tips, how he crafts his profile, how to attract women, how to choose pictures, how to meet women... Mark also describes what he does after he gets her telephone number and what he does in order to successfully and easily kiss women on dates and start new relationships.
"The OneClickDating Method contains comprehensive advice on dating, with numerous online dating tips and techniques, and is aimed at teaching men how to consistently, efficiently and easily have dates with women on the internet. Everything is explained in a simple manner and is shown in my 15 hours video tutorials," explained Mark.
The video tutorials, named Online Essentials Training Series, show exactly how to get women from MySpace, Facebook and Plentyoffish into your real life. Mark shows and explains how to apply his method in practice to get from 2 to 5 dates per week without spending your time typing messages.
"It's not the software that gets telephone numbers but the dating techniques and the language you use in the messages you send to the women. The software is just there to automate this process so that you don't have to sit hours in front of your computer sending your answers manually," said Mark.
When asked if he still uses his software today, he replied, "Yes. When I'm busy or I don't feel like going out to meet women, I use it every day. There are many advantages of doing it."
If you are still wondering how to get a girlfriend and struggling with dates, maybe you should consider employing Mark's high tech software to do the hard work for you. If you want to find out more about Mark Dupont and his method of meeting women on the internet go to oneclickdatingmethod.com or onlineseductionmethod.com .
Contact:
Mark Dupont
+386 40 678 733
+385 95 508 48 16
http://www.oneclickdatingmethod.com
http://www.onlineseductionmethod.com
Mark Dupont's Blog: http://www.oneclickdatingmethod.com/blog
###