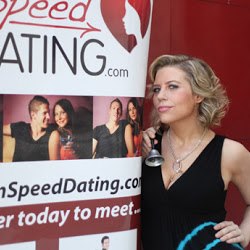 It took me almost 11 years of dating in NYC and starting my own singles companies to fall in love. If it can happen for me, it can happen for anyone. You may be single, but you're not alone.
New York City, NY (PRWEB) April 02, 2013
Despite living in the 'singles capital of the world,' with unlimited access to matchmakers, dating coaches and singles events, finding love continues to elude a majority of New York singles.
In 2009, self-proclaimed, 'forever single' girl, Amber Soletti, disillusioned with the NYC dating scene, co-founded her own dating services. Her business goals? "To find myself a man while subsidizing my income and hooking up my single friends in the process," says Soletti.
Almost four years and close to 400 singles events later, she's thrilled to take herself off the market, having finally met her match through one of her NYC singles parties.
"My business partner and I started the company because we were so unimpressed with the dating events we'd attended," explains Soletti. "At the time, they were only based on age range and seemed to attract a majority of unattractive, socially awkward singles."
Amber, a former brand marketer for Fortune 500 companies like Avon and Estee Lauder owned Aveda, quickly shifted the dating paradigm by being the first to offer "themed" speed dating events and singles parties based on people's dating "deal-breakers" through the launches of her dating services OnSpeedDating and SingleAndTheCity.
With super niche and sometimes controversial themes such as "Hung," (for women wanting to date well-endowed men 7"+), "Tough Love," (where singles find out why they were not selected as a match), "Child Proof," (for singles that don't ever want kids) and "Skinny Minny," (for men that want to date women size 0-8), the company took NYC by storm. Despite all the publicity and success, and even dating at many of her events, Amber still found herself single.
"I would participate in the speed dating events and have men not believe that I was really single," says Soletti. "I constantly had women say to me, 'If you're still single after going to all of these events, what hope is there for me to meet someone?' I truly started to believe that I would be single forever and made the conscious decision to give up on meeting someone for myself, and instead solely focused on helping others find relationships."
It was just a few months after this time at her New Year's Eve singles party, that Amber would end up meeting and instantly falling for Juan Cabrera, a 6'6" strapping Dominican, six years her junior.
Celebrating their one-year anniversary this past New Year's Eve, Amber and Juan recently re-located from NYC to her hometown of Austin, Texas, where they just made their relationship official filing for domestic partner status. She, along with her business partner Carmine Di Re, continue to oversee the NYC businesses. At the same time, they are also in the midst of introducing their successful dating services in other cities, starting with Austin.
"I know of so many quality singles that are in the same boat as I was in, that just want to give up. They don't see the point in continuing to go out to singles events when they've been to so many and never met anyone. The point is, you never know who will be in attendance at an event on any given night. All it takes is one. So, despite how hard it may be to continue to put yourself out there, you keep doing it. The key is to do so without expectations."
Soletti cites her favorite OnSpeedDating event themes as "Size Matters" (for women that want to date tall men 6'1+), "Men With Accents Are Hot," Date A Cougar," "Latin Lovers" and "Rescue Me," Fireman singles parties. "It's funny, because Juan is all of those events wrapped up in one," states Soletti. "With exception to being a firefighter, although he is trying out in May for the Austin Fire Department. So who knows, maybe I will have it all. Regardless, I already do."
OnSpeedDating.Com is an on-line dating service offering over 75 "themed" speed dating events for singles of all sexual orientations living in the New York City area. Along with speed dating, they also offer free online dating throughout Canada and the United States via sister site Kissburg.Com and NYC singles parties and events through SingleAndTheCity.Com.
Visit OnSpeedDating.Com, Kissburg.Com and SingleAndTheCity.Com for free membership information and to view all upcoming singles and speed dating events.