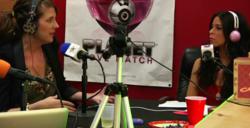 "Women can come off as crazy. You don't want to share that you go to a therapist every week. Therapy is great, I'm studying it, it's awesome, but you don't need to put that out there on the first date."
Los Angeles, CA (PRWEB) May 11, 2012
On a recent episode of the weekly dating advice show Planet Love Match Radio, author and love stylist Tristan Coopersmith examined three of the most common mistakes single women make in their love lives. Coopersmith explained that the dating traps women fall into are: being unrealistic, sharing too much information too soon, and "fast-forward" dating.
Setting lofty, unrealistic goals has some single women feeling dating frustration. "I think the biggest mistake that women do in dating… and I blame Walt Disney for this, is looking for the fairytale, looking for Prince Charming," Coopersmith says. She adds that having a list of wants and needs is great; however, projecting a future that plays like a movie puts added pressure on a relationship that hasn't even started yet. "Looking for perfection, it's just not going to happen. Be realistic," she states.
Employing her many years of experience, Coopersmith has found a distinctive approach to love. Working as a "love stylist" she is neither a matchmaker nor wing girl; more of a teacher and guide. She focuses on her clients' own strengths, concentrating on getting them to let go of the baggage and learn positive dating techniques that will allow them to find happiness and love. Her overall approach is helping confused singles see their relationships through clear eyes. She runs a successful blog and has added author to her credentials with her book, "Menu Dating: Taste Test Your Way to the Main Course."
"Fast-forward" dating can be another mistake for some singles. "For example, a woman will be on a first date with a guy and it's the second course… and she's already calculating 'Could he be an awesome dad?' 'I wonder if he'll want to go to my cousin's wedding next year?' While all that the man is thinking is, 'Has she drank enough to come home with me?' I believe that the guy is much more realistic at that moment, because you don't even know each other," she states.
Coopersmith further contends that the projection of this "fast-forward" fantasy can lead to dating disillusionment. "Fast-forwarding is why I believe women get so disappointed – they've already married the guy," she concludes.
Sharing an excessive amount of personal details is another error Coopersmith feels single women are making. While she believes that it is important for a love interest to get to know the real you over time, sharing too much at the beginning of a relationship can sabotage its initial growth.
"Women can come off as crazy," she explains. "You don't want to share that you go to a therapist every week. Therapy is great, I'm studying it, it's awesome, but you don't need to put that out there on the first date."
She suggests that daters should talk about the movies, music, or places they might like to travel – things that everyone can relate to. "You always want to come off as nice and light, no one wants a second date with someone with lots of baggage," she finishes.
Planet Love Match Radio airs every Thursday night from 7-9 p.m. PST on LATalkLive.com. Hosted by Jennifer Tapiero, the show encompasses all aspects of relationships, love, sex, dating and finding love online. Listeners are encouraged to call in and ask questions during the show at (323)247-7443. Recent guests include: Cyber-dating expert Julie Spira, life coach Steve Truitt, Dr. Reef Karim, author Donna Spangler, actor David Golshan, model Randi Ingerman and many more dating experts and celebrities. To watch highlights from the show, go to http://blog.planetlovematch.com/category/PLM-Radio.aspx
Planet Love Match Radio is sponsored by online dating website PlanetLoveMatch.com.
About Planet Love Match®
Planet Love Match is a freemium online dating website that provides singles with an immersive and interactive way to find and meet people online, no matter where they are. With free email and chat and over 50 ways to communicate, Planet Love Match is making it safer and easier for singles of every age, race, orientation and gender to find love online. Planet Love Match is powered by KABUUM®, a communication platform developed by Global Marketing Resources, Inc. Founded in 1995, GMRI is headquartered in Dunedin, Florida.