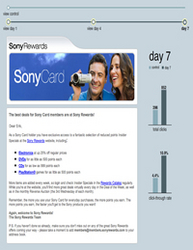 We congratulate Sony on the MarketingSherpa Award and look forward to the success of our new digital partnership going forward
New York, NY (PRWEB) March 18, 2009
Datran Media, a leading digital marketing technology company, today announced that a Sony Rewards Loyalty Program email campaign powered by the company has won a Gold Award at this week's 2009 MarketingSherpa Email Excellence Awards. This news coincides with Sony's decision to license Datran Media's top-ranked marketing and monetization email platform, StormPost, and retain Datran Media for enterprise delivery and strategic consulting support for email and other digital initiatives.
"We are pleased to have won the MarketingSherpa Award for Email Excellence along with our partners at Datran Media," said John Briesch, president of Sony Card Marketing and Services Company. "The combination of Datran's strategic solutions and the robust reporting of StormPost's email platform were critical to the campaign's ultimate success. With Sony's focus on relevancy and quantitative returns, the analytics, reporting and intelligence offered by Datran Media has great value for us."
The award-winning Sony campaign focused on quantifying the impact of a new serialized, multi-message welcome program targeting new Sony Rewards members. The objective was to welcome, educate and engage with newly-registered members of the Sony Rewards Loyalty Club. The two-tiered campaign was designed as a test to determine the effectiveness of serialized versus single-message email marketing. Half of the registered Sony Rewards members received serialized email messages, which included an initial welcome message followed by two informational emails over a period of seven days. The other half of the registrants served as the control group and received only a single email message from Sony. The campaign measured the level of customer engagement exhibited by consumers in each group based on user response rates.
The test results were profoundly favorable to the serialized email campaign, which generated a 157 percent higher click-through rate than the non-serialized campaign. The serialized test campaign also drove 627 percent more total clicks to Sony's Web site than the single message control group. For more detailed information about this campaign, please visit http://www.datranmedia.com/Sonyaward.
"We congratulate Sony on the MarketingSherpa Award and look forward to the success of our new digital partnership going forward," said Patrick Vogt, chairman and CEO of Datran Media. "It is very exciting to work with a company that shares our vision for using analytics tools to test and optimize digital marketing for maximum effectiveness for customers. Sony is a prestigious and innovative brand, and we expect to continue to build a long and prosperous strategic relationship going forward."
About Datran Media:
Datran Media is a leading digital marketing technology company that helps its customers manage all aspects of their multi-channel marketing campaigns - from branding and acquisition, to retention and monetization. Datran Media technology solutions include content creation and management, cutting edge technology for media distribution, and audience measurement and analytical tools. These solutions make it easy to drive maximum value and measure the results of digital marketing programs. More than 1,000 top consumer advertisers, publishers and agencies have partnered with Datran Media to increase brand favorability and strengthen the lifetime value of their customer relationships. For more information on Datran Media, visit http://www.datranmedia.com.
Copyright ©2009 Datran Media. All Rights Reserved. Datran Media, StormPost and UnsubCentral are trademarks or registered trademarks of Datran Media.
###