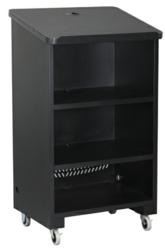 "With its custom coloring and durable design, Datum's Mobile Podium™ will always look like a professional and permanent fixture in the room," said Thomas Potter, President of Datum.
Emigsville, PA (PRWEB) July 19, 2011
The current trend in offices and meeting facilities is to maximize the use of spaces by leaving areas open and versatile. The newest addition to Datum's product offering, the Mobile Podium™, works with these spaces to create a venue for public speaking at a moment's notice. It is the ideal solution for educational institutions, religious gatherings, office environments, and settings where public speaking occurs, but not on a daily basis.
More than just public speaking, this product has also been used in government buildings and security stations where a mobile check point is often needed at a moments notice.
The Mobile Podium ™ has multiple features which make it an essential product for any business or meeting space. Foremost is its mobility. Available in two sizes of casters, the unit's nylon wheels make it easy to maneuver, even in tight spaces. Durable construction from heavy duty steel makes this the most durable mobile podium available backed by a lifetime warranty. For added convenience, the back of the unit is open and houses two internal shelves for storing papers, electronics or other presentation equipment. A metal lip on the work surface keeps items from sliding and ventilation insures that any electronics stored inside the podium stay cool with proper airflow. Unlike many of its competitors, the Mobile Podium ™ comes in 19 colors with laminate top colors to match. Custom colors are also available to seamlessly blend the podium into any décor.
"Our newest product, the Mobile Podium™ is unique in that it can be added and removed to a facility as often as needed and with its quality construction and color options, it will always look like a professional and permanent fixture in the room," said Thomas Potter, President of Datum.
Founded in 1968, Datum Filing is a second generation family-owned company that supplies storage and filing systems to meet almost any need. Starting with simple, desktop organization products, Datum has since grown into a 120,000 square foot facility located in Emigsville, Pennsylvania. There they supply over 20 product lines for a variety of organization and storage needs.
To learn more about Datum Filing Systems and its products, please visit: http://www.datumfiling.com.
###