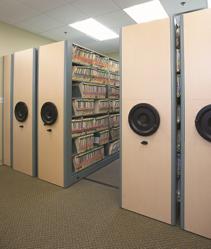 "This project gave us the opportunity to meet a specific request of our customer," said Thomas Potter, President of Datum. "We gave them functional and attractive storage to compliment their office's new décor."
Emigsville, PA (PRWEB) November 04, 2011
Berks Eye Physicians and Surgeons LTD chose to update and improve their patient record and eye chart filing system as part of an entire office upgrade. Datum provided the office with a complete MobileTrak5® filing system that blended seamlessly into its new design.
The office wanted to create an overall modern décor that extended into its record filing system. Datum fulfilled this request by using a recessed track to eliminate the need for decking and allow the existing carpet to continue underneath, creating a sleek and innovative look. The unit is comprised of a MobileTrak5® System with 4Post™ shelving to maximize vertical space and accessibility. The 4Post™ features posting shelves for convenient, temporary workspaces that employees can use when updating charts. For an added touch, the ends of the MobileTrak5® were completed with 3-piece melamine end panels in a complimenting color.
"This project gave us the opportunity to meet a specific request of our customer," said Thomas Potter, President of Datum. "We gave them functional and attractive storage to compliment their office's new décor."
Founded in 1968, Datum Filing is a second generation family-owned company that supplies storage and filing systems to meet almost any need. Starting with simple, desktop organization products, Datum has since grown into a 120,000 square foot facility located in Emigsville, Pennsylvania. Datum Filing Systems has earned an ISO 9001 Certification based off of its high standards of business quality and leadership.
To learn more about Datum Filing Systems and its products, please visit: http://www.datumfiling.com.
###