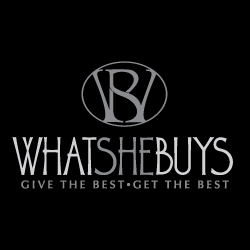 the last umbrella you will ever own
San Gabriel, CA (PRWEB) May 8, 2008
WhatSheBuys, a specialty boutique retailer featuring world-class brands, announced that it has selected Davek as its best-of-category selection for umbrellas and has become an authorized retailer of Davek umbrellas.
WhatSheBuys specializes in identifying best-of-category, world class brands for her, for him, for child. Davek joins Lambertson-Truex, Lodis, and Abas, among others, in its collection of world-class accessory brands. Davek promotes its umbrellas as the world's strongest and most beautiful. Engineering features a super strong WindFlex Frame™ and a 3 Action Button that automatically opens, closes and corrects the ribs if they invert due to strong winds. Styling features rich black (with or without color accent panels) with brushed nickel. Davek umbrellas come with an unconditional lifetime guarantee and include a loss protection card, making this "the last umbrella you will ever own". Davek has been featured on Men's Journal, Maxim, the New York Times and Los Angeles Times.
WhatSheBuys selected Davek based on the umbrella's engineering and craftsmanship, as well as its metropolitan style. "We are excited to add Davek to our collection", states Cathy Kamimura, Chief Buyer at WhatSheBuys. "These umbrellas are perfect for both men and women, and come in a range of sizes, including the Davek Duet Umbrella, Davek Solo Umbrella and the new Davek Traveler Umbrella. They look great with classic and fashion colors and meticulous detailing. And, you know the quality when you see and use a Davek umbrella. I especially like the engineering and functionality of the 3 action button. This is the ultimate umbrella."
for more information, contact:
WhatSheBuys PR Department
1-877-942-8743
About WhatSheBuys:
WhatSheBuys is a specialty retailer featuring world-class brands, 5 star rated service, free shipping and free gift wrap. WhatSheBuys is an authorized retailer of best-of-category, world class brands for her, for him, for child, including UGG, Spanx, Phyto, Mason Pearson, Lodis, Barefoot Dreams, Britax, and Kettler. You can shop WhatSheBuys online at http://www.whatshebuys.com or visit its store in the Old Mission District in San Gabriel, CA.
About Davek:
Davek was created by engineer David Kahng who is dedicated to making the most well-designed and most beautiful umbrellas on the market. Davek umbrellas are available in select fine department stores and online.
###