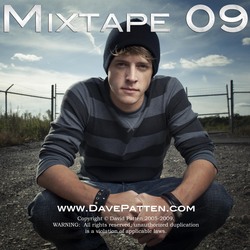 Dave's deep and powerful voice, combined with both pop rock and hip-hop beats, set him apart from the multitude
Havertown, PA (PRWEB) December 29, 2009
Dave Patten. He bleeds music.
And now for a limited time he has released 13 of his top hit songs for free download on MixTape 09.
Dave's vocals alone make him a standout. His deep and powerful voice, combined with both pop rock and hip-hop beats, set him apart from the multitude of like-sounding musicians. Dave's hit the collective pulse with songs like "Don't Stop" off his third album, Pace of Change, and "Back to School" from his fourth work, No Direction. Reflective, soulful, and powerful, they embody just one side of his artistic expression.
Dave Patten creates his own brand of music from start to finish. Everything you hear on the singer/songwriter's self-produced albums – acoustic and electric guitars, piano, drums, bass, synthesized horns and string parts – is Dave. Rarely does a musician have the ability and talent to synchronize each aspect of his tracks to the exact specifications of his creative vision.
Be sure to check out the new video sampler for his forthcoming album "Boomerang", due out in January 2010.
All of Dave's music is available on iTunes and other popular download sites.
For more information about Dave Patten, please visit http://www.davepatten.com.
###