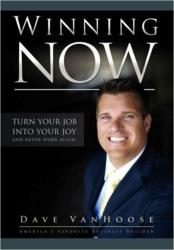 Create the results you want now! - Dave VanHoose
Tampa, Florida (PRWEB) April 08, 2013
Dave VanHoose from 7 Figure Speaking Empire has released his new book titled 'Winning Now'. Just like any great success, there are ingredients to creating the perfect mix to achieve those goals and Dave shares this winning combination in his new book.
"This book is about winning. Whether it's a race, a new career, or someone's heart, this book will teach you how to get in and stay in the game until you achieve your goals and win!" says Dave, "Knowing what to do is very different from doing what you need to do. I am constantly thinking about winning and the next step toward winning. What would be a winning edge? How can I create a winning advantage? All I think about is winning."
Dave would like to share his own success strategies with readers in order to inspire, motivate and help people turn their ideas into a firestorm of passion and make dreams come true.
Dave says, "I tell myself every day, and I say the same to you: 'Create the results you want now!'"
About Dave Vanhoose
Owner Dave Vanhoose is the 7 Figure Speaking Empire's master platform trainer. Dave's masterful execution of sales presentations is evident in his own success, and in that of his students. Dave is mentor and speaker coach to some of the most experienced speakers in the seminar industry. He masterfully takes a seasoned veteran and amplifies their platform abilities to new levels. What is his secret? Experience! #is top closer has mastered the art of platform persuasion and personally delivered more than 3000 stage presentations.
His leadership and sales abilities took his first seminar based sales company, Foreclosures Daily, to number 35 on INC Magazines list of 500 Fastest Growing Companies. Within 3 years, Dave's company had 100 employees, over $30 million in revenue, and was producing 50-100 seminar events per month! He shared this success with both Dustin Mathews and Debbie Montis.
Dave is a true example of a winning spirit. He attributes his success to his ability to accept nothing less than the best, and to his commitment to a mindset of abundance. It is this same focus on excellence that allowed him to play a critical team role during the 2003 Tampa Bay Storm Arena Bowl (XVII) World Championship season! His insistence on strong mental and physical commitment has provided him with the ability to overcome the many obstacles he has faced in his life, including complete paralysis at the young age of 29. His abilities to inspire leadership and provide speakers with the tools and strategies they need, continually raises the caliber of speakers throughout the industry.
Dave has focused his business life on motivating world class people to achieve more than they ever thought possible. His own achievements have led him to channel his success and energy into his new charity foundation.
Dave holds a Bachelor's of Science degree from the Eastern Michigan University in Sports Medicine. His accolades include winning the Speaker Trainer of the Year award in 2010, and America's Trainer in 2011, and Platform Closer of the Year from the National Speakers Organization.
In his spare time, Dave enjoys spending time with the ladies in his life, his lovely wife and daughter.
Nicole Thomas
MVP & Associates
813.938.2160 office
email: Nicole (at) SpeakingEmpire (dot) com
http://www.SpeakingEmpire.com
"We are Proud to Support The H.O.M.E Foundation"
About The H.O.M.E. Foundation:
The Helping Others Means Everything, or The H.O.M.E. Foundation, is a not-for-profit organization dedicated to helping our Family of Charities. Frankie Verdugo, President of The HOME Foundation, wants to help as many worthy charities as possible as they struggle during these tough economic times. Frankie Verdugo helps raise funds through luxury dream home raffles, home giveaways, prizes, and high profile celebrity events in Hollywood... "Our mission is to help charities reach their fundraising goals and to bring awareness to their praiseworthy causes."