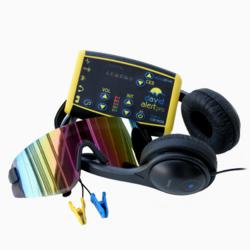 Clinical research has shown that the DAVID (Digital Audio-Visual Integration Device) technology is an effective and affordable method of stabilizing soldiers and victims of violence who suffer from PTSD
Los Angeles,CA (PRWEB) July 20, 2012
Mind Machines.com is now distributing the DAVID Alert Pro light and sound device by Mind Alive Inc. The DAVID Alert Pro has been designed and programmed to relieve symptoms of Post Traumatic Stress Disorder (PTSD).
PTSD suffers are experiencing relief from depression, anxiety, insomnia, night terrors, cognitive challenges and drug abuse thanks to the DAVID Alert Pro Mind Machine. The DAVID Alert Pro is a light and sound brainwave entrainment device that delivers controlled frequency stimulation via flickering LED glasses and stereo headphones.
According to David Siever, President of Mind Alive Inc. and author of 'Audio-Visual Entrainment as a Treatment Modality for Post-Traumatic Stress Disorder (PTSD)', "This is how the Mind Alive DAVID Alert Pro is beneficial: The DAVID (Digital Audio-Visual Integration Device) technology utilizes flashing lights and pulsing tones to improve brain function and mental wellbeing. Clinical research has shown that the DAVID (Digital Audio-Visual Integration Device) technology is an effective and affordable method of stabilizing soldiers and victims of violence who suffer from PTSD."
The Alert Pro mind machine by Mind Alive contains color light and sound sessions combined with cranial-electrical-stimulation (CES). The Alert Pro sessions are programmed to help users deal with personal issues such as depression, anxiety, insomnia, cognitive challenges and drug abuse.
Randy Coleman is a former military veteran living in Montana. Out of the military for 15 years and struggling with PTSD, Randy woke up nightly with flashbacks of the war, hearing bombs exploding, tanks and artillery, and seeing dead bodies. Randy went to the doctor and diagnosed with night terrors. There is no known cure for night terrors. The Alert brainwave training system was suggested, which he used daily for 22 minutes. After one year of using the DAVID Alert Pro mind machine, Randy no longer experiences night terror and is recovering from PTSD naturally, without drugs.
Nicky VanValkenburgh is an investigative reporter and author of the book "Train Your Brain, Transform Your Life". Nicky received a letter from Jessie Palazzi, a mom living in Colorado. In the letter, Jessie Palazzi wrote, "My daughter is autistic with severe PTSD. After being traumatized over a 5 year period in our local school district, grades 6th thru 10th, my daughter became a prisoner in my own home due to her severe emotional and social anxieties; we were unable to go anywhere. We were all prisoners. The ALERT brain training system was our last hope as drugs and therapy was useless. Within 7 days I began to see a relaxing in her demeanor. She wanted to go shopping and was able to sit in the front seat of the car. By 20 days we were able to take her to the hospital for removal of her wisdom teeth. At 30 days our neighbors and friends could see a visible difference in her facial features and vocalizations. After using the ALERT there is a darkness that has lifted from our daughter. We have a long way to go but we are now on a path heading in a positive direction. I too have beenusing the ALERT and it has helped relieve the stress that has filled my life for the past 7 years. The Alert will be a welcomed part of our lives for as long as necessary."
The DAVID Alert Pro mind machine with CES by Mind Alive comes complete with: White Tru-Vu Omniscreen Eyesets and Carry Case, Stereo Headphones or earbuds, Stereo Patch Cord, CES Earclip Stim Cable, DAVID Carry Bag, 9-Volt AlkalineBattery, AC Adapter, Comprehensive Operator's Manual and User's Guide with Symptom Survey Checklist and "Mind States: An Introduction to Light & Sound Technology" ebook by Michael Landgraf.
For more information, visit the mindmachines.com website.