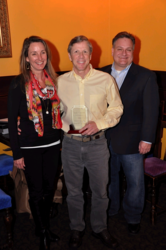 Dave keeps up with the latest in Internet marketing strategies and continually presents us with new strategies that he has already tested
San Diego, CA (PRWEB) February 26, 2013
David Carleton, a leading Internet Marketing Consultant was recently awarded the Vendor of the Year by Oregon Hot Tub, a premier Hot Spring Spas dealer in Portland Oregon. Dave, a previous Vice President of Sales and Marketing at Dimension One now specializes in showing pool and spa dealers how to generate leads and grow their business using unique strategies in lead generation and conversion,Internet marketing and social media marketing.
"Oregon Hot Tub deals with so many great companies, that being selected as their top vendor, was truly an honor," said Carleton. "The recession really hit the hot tub industry hard, with many manufacturers and dealers downsizing or even going out of business. Progressive companies that are open to try new ideas are not only surviving, but thriving - Oregon Hot Tub exemplifies this type of company" continued Carleton.
"We have been using Dave for our Internet Marketing since 2009. From social media, to SEO to video marketing and Google Adwords, Dave seems to do it all and do it well," said Sue Rogers, president of Oregon Hot Tub.
"He keeps up with the latest in Internet marketing strategies and continually presents us with new strategies that he has already tested," said Dave Doornink, marketing manager. Dave doesn't hold you hostage like so many other Internet marketing companies do. Instead of holding back on his knowledge and experience, he empowers and educates us. Dave does steady and solid good work."
"Every year, we select a vendor of the year that has most impacted our business. The 2012 Vendor of the Year went to Dave Carleton. Want to increase sales and get your business on page one of the search engines? Just call Dave," continued Rogers.
About David Carleton and Local Business Marketing Success
David Carleton is a Local Business Marketing Success Consultant based in San Diego, CA who specializes in showing small business owners how to spend less and get more from their marketing and advertising using low cost strategies in local business marketing, lead generation and conversion, Internet marketing and social media.
Dave has developed sales; marketing and training programs that have helped hundreds of businesses in 30 countries around the world generate leads, increase sales and enhance their overall marketing effectiveness. To see how Dave helped other pool and spa dealers grow their business, go to : http://LocalBusinessMarketingSuccess.com/testimonials